The Triumphant Victim: A Psychoanalytical Perspective on Sadomasochism and Perverse Thinking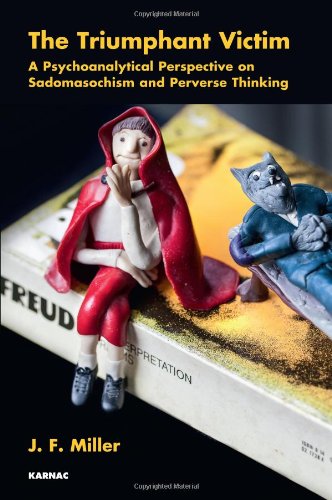 Book Details
Publisher : Routledge
Published : September 2013
Cover : Paperback
Pages : 304
Category :
Psychoanalysis
Catalogue No : 32474
ISBN 13 : 9781780490571
ISBN 10 : 1780490577
Also by J.F. Miller
Most people have some idea of the meaning of the words sadism and masochism, but often this does not go beyond rather vague ideas of either inflicting or enjoying pain. Few people ask themselves what is behind such behaviour, and this applies even to healthcare professionals and therapists. Using non-technical language, accessible for both the professional and layman, this book attempts to give a clear picture of the underlying pathology of sadomasochism, its effects, and how it can be treated. It also examines other key psychological defence mechanisms – such as hysteria and projective identification – and looks at their relationship to sadomasochism.
The author draws on many years experience of working with children and families in education, as well as nearly thirty years of analytical practice, in order to give insight into the underlying dynamics. From his clinical experience, he has come to the conclusion that sadomasochistic pathology is a far more widespread and serious problem than is generally recognised. This book uses detailed case material to examine the way in which the problem interferes with relationships and emotional growth in the individual's everyday life, and how this has profound effects on society as a whole.
Reviews and Endorsements
'John Miller's new book on sadomasochism brims with deep wisdom. Based on a lifetime of rich clinical experience, Miller has written an outstanding volume that not only explains the deep-seated, infantile origins of sadomasochistic perversity, but also illustrates how one makes deep therapeutic contact with sadomasochistic men and women in the consulting room. Drawing upon both classical psychoanalytical conceptualisations, and upon the work of later writers, in particular Donald Meltzer, the author has provided us with a tightly argued, passionate, and clear account of the dangers of sadomasochistic symptomatology and characterology, both in private life and in the culture at large. Above all, he offers us an invaluable blueprint about how we can help people to triumph over their developmental injuries and failures, and progress towards more intimate relatedness.'
- Professor Brett Kahr, Senior Clinical Research Fellow in Psychotherapy and Mental Health at the Centre for Child Mental Health in London; Honorary Visiting Professor in the School of Arts at the University of Roehampton; Trustee of the Freud Museum; and author of Sex and the Psyche
About the Author(s)
J.F. Miller is an analyst, psychotherapist, and child and family psychologist. He was educated at Marlborough College, Wiltshire, and St Catherine's College, Oxford, with postgraduate training in educational psychology at the Tavistock Clinic. He has held teaching posts in primary, secondary, and special education. He was, for some years, the County Psychologist to West Oxfordshire and has created and worked in various consultancy posts to special schools and hostels in Oxfordshire, Gloucestershire, and Wiltshire. He has also consultant and residential social worker experience in Belgium, France, and Norway.
You may also like