The Therapist's Ultimate Solution Book: Essential Strategies, Tips and Tools to Empower Your Clients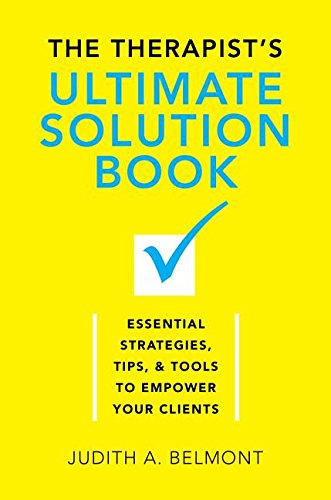 Clients go to therapy wanting to change, but often they have no inherent knowledge of how to change. It is up to the therapist to build a well-stocked toolkit of life skills and psychoeducational strategies. This book answers the call, delivering an array of basic solutions in the form of handouts, worksheets, exercises, quizzes, mini-lessons, and visualizations to use with your clients and tailor to fit their needs. No matter your preferred course of therapy - whether it is CBT, DBT, EMDR, or EFT - having at your disposal a variety of easy-to-learn and easy-to-teach techniques for a host of common therapy issues goes a long way in keeping your clients on track, both during and in between sessions.
Each chapter offers loads of skill-building tips and techniques to teach your clients, followed by practical take-aways for in-between sessions and additional recommended resources that they can turn to (websites, books, videos, and social media). Topics covered include: Stress solutions; Anxiety solutions; Depression solutions; Anger solutions; Conflict solutions; Regret solutions; Low self-esteem solutions; Life-imbalance solutions; and more.
This book is one-stop shopping for a variety of simple, practical, educational techniques to help your clients make longstanding life changes.
You may also like