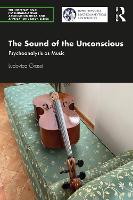 Book Details
Publisher : Routledge
Published : May 2021
Cover : Paperback
Pages : 142
Category :
Psychoanalysis
Catalogue No : 95645
ISBN 13 : 9780367645533
ISBN 10 : 9780367645
In this book, Ludovica Grassi explores the importance of music in psychoanalysis, arguing that music is a basic working tool for psyche, as words are composed of sound, rhythm and intonation more than lexical meaning.
Starting from ethnomusicological, evolutionary, neurodevelopmental, psychological and psychoanalytical perspectives, the book explores music's symbolic status, structure and way of operating compared to unconscious psychic functioning. Extraordinary similarities are revealed, especially in mechanisms such as repetition, imitation, variation (transformation), intimacy and the work of mourning, of the negative and of nostalgia. Moreover, silence and absence are essential components of music as well as of psychic and symbolic functioning. Time and temporality are specifically investigated in the book as key elements both in music and in symbolization and subjectivation processes. The role of the word's phonic kernel and of the voice as fundamental links to emotions, the body, the sexual and the infantile has promising implications for psychoanalytic work. All these elements find an articulation in the natural as well as complex activity of listening, which conveys a tri-dimensional and polyphonic dimension of the world, so important both in music and in psychoanalysis.
Illuminating the link between music and analysis in new and contemporary ways, The Sound of the Unconscious explores the resulting advances in theory and clinical practice and will be of great interest to practicing and training psychoanalysts and psychotherapists.
Reviews and Endorsements
An amazing combination of the most sophisticated, technically documented and profound psychoanalytic reflection on music, with a "musical" and sensitive description of psychoanalytic concepts and processes. By far the most advanced exploration today in this specific area, based on the author's high expertise in both fields. - Stefano Bolognini, Past President of the International Psychoanalytical Association.
About the Author(s)
Ludovica Grassi, MD, is a Child Neuropsychiatrist, Full Member of the Italian Society of Psychoanalysis and IPA, Expert in Child and Adolescent Psychoanalysis, and Couple and Family Psychoanalyst. Her research and publication main topics are: ethnopsychoanalysis; music and psychoanalysis; the origins of psychic life; psychoanalytic work with infants, children, adults, couples and families.
You may also like