The Sixth Extinction: An Unnatural History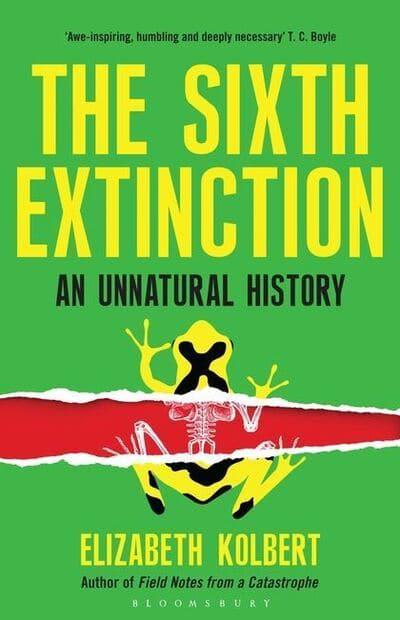 Book Details
Publisher : Bloomsbury Publishing PLC
Published : February 2014
Cover : Paperback
Pages : 336
Category :
Climate Politics
Category 2 :
Environmental Studies
Catalogue No : 96347
ISBN 13 : 9781408851227
ISBN 10 : 1408851229
Also by Elizabeth Kolbert
Over the last half a billion years, there have been five mass extinctions of life on earth. Scientists around the world are currently monitoring the sixth, predicted to be the most devastating extinction event since the asteroid impact that wiped out the dinosaurs.
Elizabeth Kolbert combines brilliant field reporting, the history of ideas and the work of geologists, botanists and marine biologists to tell the gripping stories of a dozen species - including the Panamanian golden frog and the Sumatran rhino - some already gone, others at the point of vanishing. The sixth extinction is likely to be mankind's most lasting legacy and Elizabeth Kolbert's book urgently compels us to rethink the fundamental question of what it means to be human.
Reviews and Endorsements
"Well-composed snapshots of history, theory and observation that will fascinate, enlighten and appal many readers" ― Guardian

"Compelling ... It is a disquieting tale, related with rigour and restraint by Kolbert" ― Observer

"Passionate ... This is the big story of our age. We are living through the historically rare elimination of vast numbers of species. And for the first time, it is our fault ... Uplifting prose about the wonders of nature. But the overwhelming message of this book is as clear as that of Rachel Carson's Silent Spring in 1962. We humans have become a geological force in our own right - and, unless we act, the consequences will be devastating" ― Sunday Times


About the Author(s)
Elizabeth Kolbert (born 1961) is an American journalist, author, and visiting fellow at Williams College. She is best known for her Pulitzer Prize-winning book The Sixth Extinction: An Unnatural History, and as an observer and commentator on environmentalism for The New Yorker magazine. Like The Sixth Extinction, her writing and other books, such as Field Notes from a Catastrophe and Under a White Sky often explore the crisis faced by humans in the Anthropocene.
You may also like