The Self-Compassion Skills Workbook: A 14-Day Plan to Transform Your Relationship with Yourself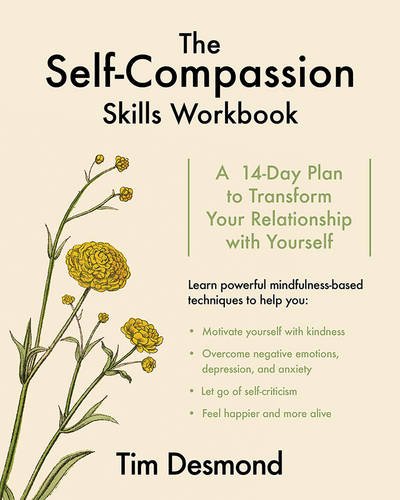 Book Details
Publisher : W.W.Norton
Published : 2017
Cover : Paperback
Pages : 224
Category :
Popular Psychology
Catalogue No : 40198
ISBN 13 : 9780393712186
ISBN 10 : 0393712184
Also by Tim Desmond
Do you struggle with stress or negativity? Learn how self-compassion can help you find greater health, peace, emotional stability and joy. Cutting-edge research shows that self-compassion is not only a skill anyone can strengthen through practice but also one of the strongest predictors of mental health and wellness. The practices in this book have been specially formulated to target and fortify what neuroscientists call the care circuit of the brain.
Devoting thirty minutes a day for just fourteen days to these simple practices can have life-changing results - they will engage your mind, heart and spirit. It will improve your ability to motivate yourself with kindness; regulate and defuse intense emotions, anxiety and depression; be resilient during life's challenges; let go of self-criticism and destructive behaviour; heal painful experiences; and be more present and compassionate with others. Experience the benefits firsthand! Features downloadable audio recordings for on-the-go practice.
About the Author(s)
Tim Desmond, LMFT, is a psychotherapist and student of Zen Master Thich Nhat Hanh. He has dedicated his life to creating peace and compassion in the world through meditation, psychotherapy, conflict resolution and nonviolent social change. He travels regularly, teaching mindfulness and self-compassion practices to professional and popular audiences, including Yale Medical Center and the Institute for Meditation and Psychotherapy. He lives with his wife and son at Morning Sun Mindfulness Center in Alstead, New Hampshire where he teaches, writes and gardens.
You may also like