The Science of Family Systems Theory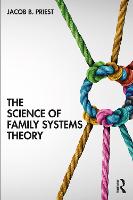 This accessible text examines how the science of autonomy and adaptation informs all family therapy approaches and discusses how clinicians can use this science to improve their practice.
Uniquely focussing on how to integrate science as well as theory into clinical practice, the book provides an overview of science from multiple domains and ties it to family systems theory through the key framework of autonomy and adaptation. Drawing on research from genetics, physiology, emotion regulation, attachment, and triangulation, chapters demonstrate how a comprehensive science-informed theory of family systems can be applied to a range of problematic family patterns. The text also explores self-of-the-therapist work and considers how autonomy and attachment are connected to systems of power, privilege, and oppression.
Supported throughout by practical case examples, as well as questions for consideration, chapter summaries, and resource lists to further engage the reader, The Science of Family Systems Theory is an essential textbook for marriage and family therapy students as well as mental health professionals working with families.
Reviews and Endorsements
"This book is balanced and captivating. It guides the reader through a clear, comprehensive, and grounded review of the knowledge and practices in the area of family systems. A great resource for family researchers, educators, and clinicians seeking to advance their work." - Sesen Negash, PhD, LMFT, associate professor and director, Marriage and Family Therapy Program, San Diego State University.

"In The Science of Family Systems Theory, Dr. Priest provides a cohesive guide to understanding and applying general systems theory with increased clarity and purpose. From describing the minute details of cells and DNA within the body to explaining systemic oppression in broader sociocultural systems, the author provides the reader with an opportunity to see how comprehensive general systems theory can be in explaining so many processes in the universe. The book also provides examples of how to make clear connections between scientific observations and family systems theory." - Daniel Hubler, PhD, CFLE, associate professor, Child and Family Studies, Weber State University.
About the Author(s)
Jacob B. Priest is an associate professor in the couple and family therapy program at the University of Iowa. He received a PhD from Florida State University and has a private practice at the Counseling Center of Iowa City.
You may also like