The Science and Politics of Global Climate Change: A Guide to the Debate: Third Edition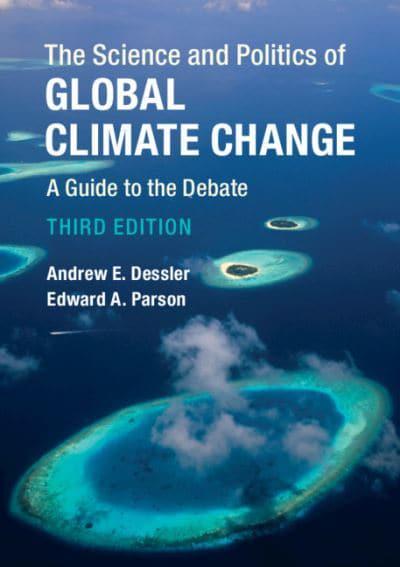 Book Details
Publisher : Cambridge University Press
Published : August 2019
Cover : Paperback
Pages : 278
Category :
Climate Politics
Category 2 :
Environmental Studies
Catalogue No : 96353
ISBN 13 : 9781316631324
ISBN 10 : 131663132X
This third edition has been comprehensively updated to reflect the large changes in scientific knowledge and policy debates on climate change since the previous edition in 2009. It provides a concise but thorough overview of the Science, Technology, Economics, Policy, and Politics of Climate Change in a single volume. It explains how scientific and policy debates work, outlines the scientific evidence for the reality and seriousness of climate change and the basic atmospheric science that supports it, and discusses policy options and the current state of the policy debate.
By pulling these elements together, the book explains why the issue can be so confusing and provides guidance on practical routes forward. Anyone interested in climate change, the global environment, or how science is used in policy debates should read this book. It is the ideal textbook for undergraduate or graduate courses in Environmental Policy and Climate Change.
Reviews and Endorsements
"The authors do a great service with a book that manages to be both readable and succinct but also comprehensive in its analysis of the science, politics and policy of climate change. I highly recommend it to beginners who want to grasp the overall problem, and experts who want depth on specific topics. I will keep this book at close reach on my bookshelf" Ken Kimmell, President, Union of Concerned Scientists

"The Third Edition of The Science and Politics of Global Climate Change is a superbly up-to-date, balanced, and lucidly written treatment of this crucially important topic. Any thoughtful person seeking a deeper grounding on global climate change would be well advised to get this book" John P. Holdren, Harvard University; Former Science Advisor to President Obama and Director, White House Office of Science and Technology Policy

"Our children are angry with us for the climate crisis we have created. They are looking for heroes - but mitigating and adapting to climate change is going to need a lot more than heroes. Whomever steps forward, whatever is done, will require negotiating a tangled web of politics, science, economics, entrepreneurship and social justice that has been spun up by runaway global heating. No book comes even close to Dessler and Parson's zen-like mastery of what needs to be done if we are to address the climate crisis before it is too late. Fortunately, Dessler and Parson write with a crisp clarity that is intellectually sophisticated without showing off, or hiding behind jargon. If you care about climate change, there is no excuse for not reading this book" Peter Kareiva, Director, and Pritzker Distinguished Professor in Environment and Sustainability, University of California, Los Angeles
About the Author(s)
Andrew E. Dessler is a Professor in the Department of Atmospheric Sciences and holder of the Reta A. Haynes Chair in Geosciences at Texas A & M University. He received his Ph.D. in Chemistry from Harvard University in 1994 and performed postdoctoral work at NASA Goddard Space Flight Center (1994-96). In 2000, he worked as a Senior Policy Analyst in the White House Office of Science and Technology Policy, where he collaborated with Edward A. Parson. Dessler's academic publications include two other books, including the award-winning textbook Introduction to Modern Climate Change (Cambridge, 2nd edition, 2015). He has also published extensively in the scientific literature on stratospheric ozone depletion and the physics of climate.


Edward A. Parson is Dan and Rae Emmett Professor of Environmental Law at the University of California, Los Angeles. He studies International Environmental Law and Policy and the role of Science and Technology in Policy-Making. Previously a professor at Harvard University and the University of Michigan, Parson has also worked and consulted for senior policy-making and science-advisory bodies in the United States, Canada, and internationally. He holds degrees in physics from the University of Toronto and in management science from the University of British Columbia, and a Ph.D. in Public Policy from Harvard University.
You may also like