The Rough Beast: Psychoanalysis in Everyday Life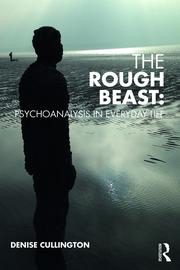 Book Details
Publisher : Routledge
Published : September 2018
Cover : Paperback
Pages : 224
Category :
Psychoanalysis
Catalogue No : 37571
ISBN 13 : 9781782203674
ISBN 10 : 1782203672
Also by Denise Cullington

We don't operate only logically, consciously. Parts of our minds are less available. We can find ourselves inhibited and anxious, or resentful and ready to snap – and not really understand why.
If psychoanalysis is about noticing what is disturbing, rougher, in our human selves, why would we do that? Surely it is better to shut down and turn away?
In Only Human, Denise Cullington argues that it is freeing to know those less conscious parts of mind: the bad, the mad and the sad as well as the good and the sane. Drawing on real-life examples, she brings an account of psychoanalytic ideas, discovered and developed by Freud and later analysts, of how avoiding painful realities can continue to reverberate down through the stages of life. Using clear and accessible language, she provides a guide to what, why and how psychoanalytic ideas are useful in everyday life.
About the Author(s)
Denise Cullington is a psychoanalyst in private practice in Oxford. She trained at the Institute of Psychoanalysis, the Tavistock Clinic, London and also as a clinical psychologist. She has previously written Breaking Up Blues (2008), a book for the general reader on how analytic ideas are helpful in the emotional task of managing break-up and divorce.
You may also like