The Revolting Self: Perspectives on the Psychological, Social, and Clinical Implications of Self-Directed Disgust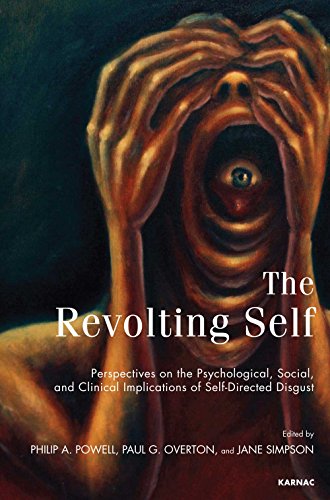 Book Details
Publisher : Routledge
Published : March 2015
Cover : Paperback
Pages : 368
Category :
Clinical Psychology
Catalogue No : 33987
ISBN 13 : 9781782200086
ISBN 10 : 1782200088
Self-disgust (viewing the self as an object of abhorrence) is somewhat of a novel subject for psychological research and theory, yet its significance is increasingly being recognised in the clinical domain. This edited collection of articles represents the first scholarly attempt to engage comprehensively with the concept of self-directed disgust as a potentially discrete and important psychological phenomenon. The present work is unique in addressing the idea of self-disgust in depth, using novel empirical research, academic review, social commentary, and informed theorising. It includes chapters from pioneers in the field of psychology, and other selected authorities who can see the potential of using self-disgust to inform their own areas of expertise. The volume features contributions from a distinguished array of scholars and practising clinicians, including international leaders in areas such as cognition and emotion, psychological therapy, mental health research, and health and clinical psychology. This collection of papers offers a stimulating and timely investigation of that which the authors refer to as "the revolting self"; it is an invaluable handbook for all those academics and clinicians who want to understand and explore the concept of self-disgust further.
Reviews and Endorsements
'This authoritative book provides the reader with a comprehensive overview of the current state of theory and research on self-disgust. This is a topic of great importance for psychopathology that has just begun to stimulate significant research interest. In addition to consideration of an evolving theoretical formulation, the book's key strength is that it offers the reader a transdiagnostic framework for conceptualising how self-disgust may be observed across various disorders. The editors have assembled a stellar group of contributors who offer unique perspectives on the revolting self. This book will be an important resource for scientists or students who want to gain a better understanding of the many ways that experiencing disgust may contribute to psychiatric disorders.'
— Bunmi O. Olatunji, PhD, Department of Psychology, Vanderbilt University, USA

'Our emotions, especially our social or self-referential emotions, are of great importance for our lives: they guide us on our long and uncertain journey in a world mainly determined by the behaviour of other people. In order to effectively navigate under these conditions, our emotional dispositions need social programming. We have to acquire and to calibrate affective schemas that allow for culturally acceptable and intelligible ways of establishing an "emotional self". In comes the concept of "self-directed disgust". This describes how an emotional core-process is socially transformed in order to balance our selves between self-expansion and self-regression. Too little self-disgust may lead to exorbitance, impertinence, and social ostracism; too much strangles the development of a viable self and ends up in chronic psychopathology. I hope that clinical research on this subject will help us to develop more effective psychotherapeutic strategies. Meanwhile, I welcome the first volume on the topic. The Revolting Self is a timely and very interesting read that should find a big audience.'
— Markus R. Pawelzik, MD, Medical Director, EOS-Klinik, Münster, Germany

'Disgust is considered to be one of the most basic of emotions, and our experience of it nearly ubiquitous. Beyond revulsion against disease and contamination from physical threats, much work in recent decades has helped clarify disgust's role as a complex socio-moral emotion. This exciting volume advances our understanding by exploring when we turn our disgust inward, towards our very selves. With ample evidence and thought-provoking theorising, the chapters here first and foremost put to rest the longdebated question of whether self-disgust can be said to exist as an emotional experience. The authors promote disgust towards the self to its rightful place alongside, yet distinct from, other evaluative and self-conscious emotions like shame, guilt, and anger, and demonstrate myriad significant health consequences of self-disgust across domains and populations. This rich collection is sure to enhance the scholarship, teaching, and practice
of a great many of us working in the psychology and philosophy of emotions.'
— Tomi-Ann Roberts, PhD, Chair, Department of Psychology, Colorado College, USA
About the Editor(s)
Philip A. Powell is a research psychologist with an interest in discrete emotions and their unique effects on our psychological well-being, behaviour, and decision-making. He completed his PhD in 2013 on the topic of self-disgust and its link to depression. Philip is currently appointed as a postdoctoral Research Associate in the Institute for the Economic Analysis of Decision-Making (InstEAD) at the University of Sheffield, UK, and is an associate member of the International Society for Research on Emotion (ISRE).
Paul G. Overton, PhD, is Professor of Neuroscience at the University of Sheffield, UK, and is currently the head of the Department of Psychology. The majority of his research focuses on the basal ganglia, a group of structures involved in action selection, cognition and emotion. Although historically his work has been conducted using infrahuman species, his recent work has moved to include human subjects, particularly in relation to Attention Deficit Hyperactivity Disorder, Parkinson's disease and disgust.
Jane Simpson, PhD, is a clinical and academic psychologist and has been Research Director on the Doctorate in Clinical Psychology at Lancaster for the past seven years. A major focus of her research is the relationship between emotions and cognitions, and the international move to see emotions as a major driver in influencing both mental health difficulties and response to therapy is one she fully supports.
You may also like