The Psychological Impact of Boarding School: The Trunk in the Hall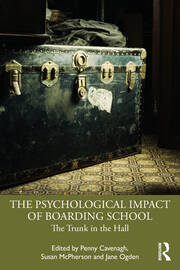 Book Details
Publisher : Routledge
Published : August 2023
Cover : Paperback
Pages : 200
Category :
Child and Adolescent Studies
Catalogue No : 97288
ISBN 13 : 9781032248721
ISBN 10 : 1032248726
Also by Susan McPherson
Also by Jane Ogden
The Psychological Impact of Boarding School is a collection of research-based essays answering a range of questions about boarding school and its long-term impact.
Through a combination of original in-depth first-person narratives as well as larger scale surveys, this book aims to fill gaps in current boarding school research and present new findings. Topics addressed include gender differences, eating behaviours, loneliness, mental health and relationships, the differences between younger and older boarders, and ex-boarder experiences of therapy. The research results highlight a key role in the age that children start boarding, the way that long-term psychological influences of friendships formed at school, and the larger role that parent and family relationships play in the psychological lives of boarders. Through these findings, the book ultimately challenges the current understanding of 'boarding school syndrome', proposing a move beyond the term and its concept.
The book will appeal to psychologists, psychoanalysts, counsellors, academics, teachers, current and ex-boarders as well as parents and guardians interested in the impact of boarding schools from either a professional or a personal perspective.
Reviews and Endorsements
A scholarly and nuanced study on the long-term psychological impacts of British boarding schools: while some people thrive in boarding schools, for too many others the adverse psychological impacts last a lifetime.
Benedict Rattigan, author and ex-boarder at Eton

Boarding is often misunderstood and misrepresented, but this invaluable book provides a wide, and evidence-informed, analysis of the sector. Importantly, the authors allow the voices of the former pupils themselves to speak and in doing so reveal a nuanced and complex series of personal narratives. This is a book that should be read not only by those who work in boarding schools, but by anyone involved in education and child psychology.
David James, co-editor of The State of Independence
Table of Contents

1. British boarding schools on trial: Making the case for new evidence
Susan McPherson, Mairi Emerson-Smith, Penny Cavenagh

2. British boarding schools, mental health and resilience: Survey research
Emma Hopkins, Susan McPherson, Penny Cavenagh

3. The impact of boarding school on adult relationships: Men's accounts
Craig Harris, Gareth Morgan, Alice Welham

4. It's not all down to boarding: Early family and peer relationships among boarders
James Lee et al

5. The impact of boarding school on adult eating behaviour
Alexandra Priestner et al

6. How does boarding school influence feelings of loneliness?
Caroline Floyd, Susan McPherson, Penny Cavenagh

7: The shadow side of boarding schools: Childhood sexual abuse and its aftermath
Daniel Taggart

8. Having psychotherapy to help with boarding school experiences: The role of denial, shame and privilege
Mairi Emerson-Smith, Susan McPherson, Penny Cavenagh

9. Escape, autonomy, friendship and resilience: Positive experiences of British boarding school
Remy Hayes et al

10. British boarding schools on trial: Making the case for 'boarding family syndrome'
Penny Cavenagh, Susan McPherson
About the Editor(s)
Penny Cavenagh, PhD, is currently a professor of health research and enterprise at the University of Suffolk, visiting professor at the University of Essex and a chartered psychologist. She has published extensively in books and academic journals in the field of medical management, medical education and dysfluency. She boarded for four years at an all-girls school in the early 1970s.
Susan McPherson, PhD, is currently a professor of psychology and sociology at the University of Essex and has been a researcher in the field of mental health for 25 years after studying at the London School of Economics, University College London and Kings College London. She was a full-time boarder from age 8 to 18 during the 1980s and 1990s including three years at a junior boarding school.
More titles by Susan McPherson
Jane Ogden is Professor of Health Psychology at the University of Surrey, UK. She has published over 100 articles and several books, including Health Psychology: A Textbook and Fat Chance: The Myth of Dieting Explained. Her current research interests include the control of eating behavior, the medical and surgical management of obesity, aspects of women's health, and the role of language in the doctor-patient relationship.
You may also like