The Principles of Pleasure: Working with the Good Stuff as Sex Therapists and Educators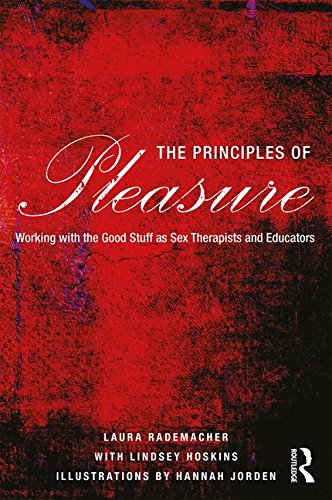 There are tremendous benefits to discussing the subject of sexual and emotional pleasure with clients, and this book addresses the challenges and misconceptions of doing just that. Laura Rademacher and Lindsey Hoskins teach the skills necessary for mental health professionals and sex educators to build competence in this work with their clients. Readers get techniques to implement in therapeutic, clinical, and educational settings, and learn how to examine pleasure in ways that are currently lacking from academic work on sexual health. This book covers skills for working with populations of all orientations and gender expressions.
Language and phrasing for addressing pleasure issues in a wide variety of educational or therapeutic settings is also provided. Information about sexual lubrication and sex toys that is rarely taught in professional training programs is included, as well as how to appropriately incorporate information about these important sexual tools into your work. Issues such as abstinence, sexual orientation, couple therapy, and sexual education will be discussed outside of the standard medical model of sex therapy. The Principles of Pleasure will help you feel relaxed and confident while moving clients and students closer to their pleasure goals, and provides the evidence to back up the importance of talking and teaching about pleasure, should you need to justify this work.
You may also like