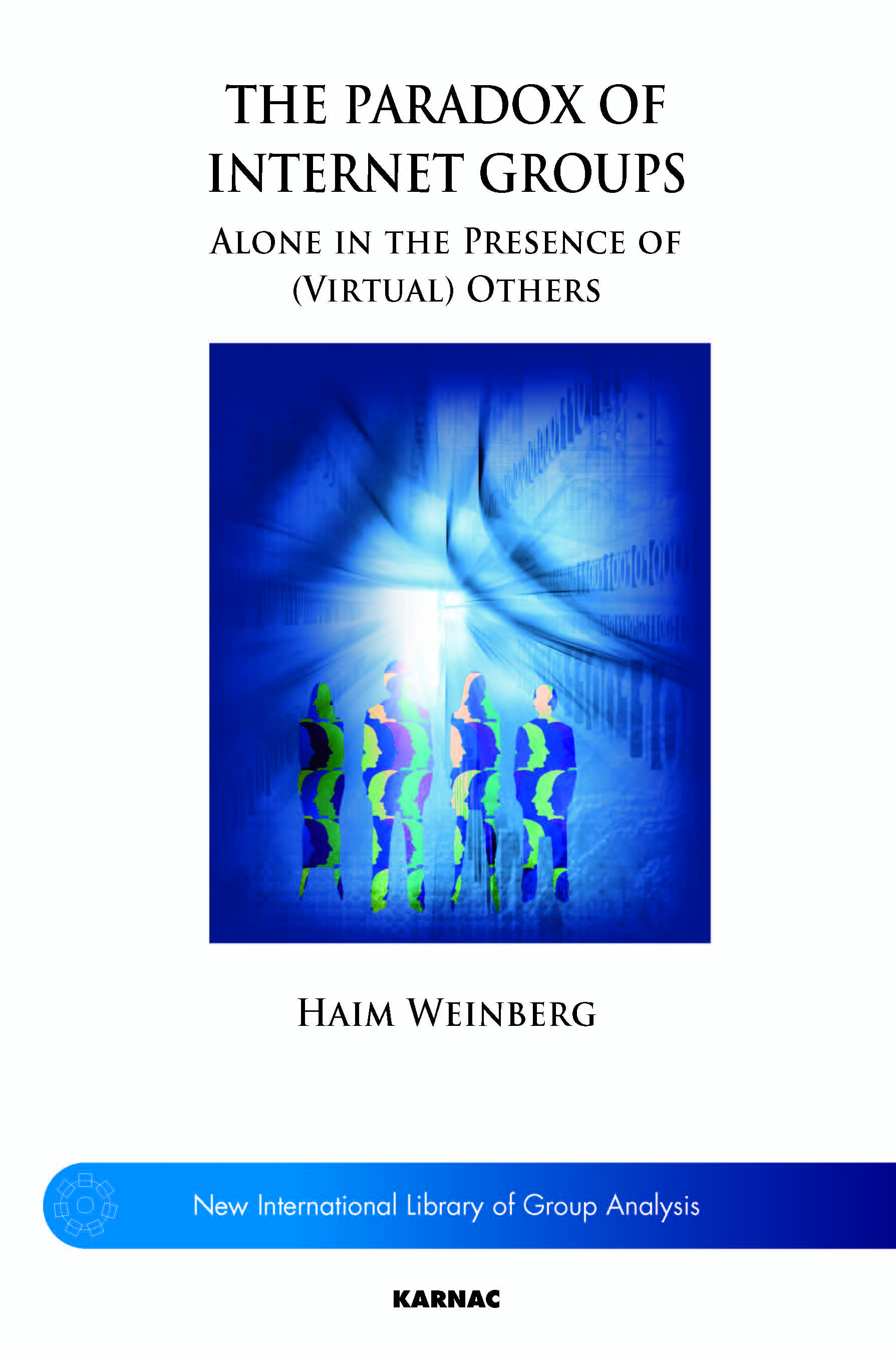 Book Details
Publisher : Routledge
Published : February 2014
Cover : Paperback
Pages : 224
Category :
Group Psychotherapy
Catalogue No : 29425
ISBN 13 : 9781855758933
ISBN 10 : 1855758938
Also by Haim Weinberg
The new virtual era is already here. We use the internet every day, to retrieve information, to purchase merchandise, and to connect with others. But do we really understand the psychology of the internet and how it affects our lives?
In this book, Dr Haim Weinberg looks at cyberspace from a group analytic perspective, conceptualizing internet forums as large groups with the illusion of being small groups, and using his expertise as a group therapist to shed new light on internet connections. He explores issues of attachment, relationships, inter-subjectivity, and neuroscience, and shows their relevance to the virtual world. He discusses the question of intimacy and develops a new concept of E-ntimacy that better suits internet bonding. He also examines the multicultural issues found in internet forums, and the leadership qualities needed to manage these issues. Finally, he claims that there is a link which connects us through the world wide web: the internet unconscious.
Reviews and Endorsements
'The world is changing rapidly, and one major component of that change is the "worldwide group". Never before has it been possible to be in instant communication not only with individuals around the world, but also with groups. Groups composed of multinational individuals, many of whom have never met face to face, are everywhere. This book looks at this phenomenon, for good and bad, from the perspective of group therapy and group dynamics. It is an important book that addresses an important topic.'
— J. Scott Rutan, PhD, CGP, Distinguished Fellow American Group Psychotherapy Association (AGPA); past President of AGPA; former faculty at Harvard Medical School and Massachusetts General Hospital; co-founder of the Boston Institute for Psychotherapy

'Anticipating the evolution of internet therapy groups, Haim Weinberg has written a comprehensive book covering the broad range of issues involved. He notes the similarities and differences between online group dynamics and face-to-face groups. For successful treatment, therapists and/or participants will profit greatly by reading this book.'
— Walter N. Stone, MD, CGP, Distinguished Fellow AGPA; Professor Emeritus, University of Cincinnati; Past President AGPA

'Haim Weinberg has contributed significantly for all those who need to understand groups in internet communication. Sharing his experience and innovative approaches, he contributes to modern professional life, in which group dynamics are challenged by distance, separation, internationalisation, and different relations quality.'
— Dr Robi Friedman, President, Group Analytic Society (International); President of the Israeli Institute of Group Analysis; past President of the Israeli Association of Group Psychotherapy; Haifa University, Israel

'Dr Weinberg has a number of fascinating observations of virtual groups and space on the Internet. He describes the relative absence of boundaries, the increased level of intimacy, and the relatively rapid and powerful transference towards leaders and powerful figures, and leads us to think deeply about the potential to combine virtual and face-to-face groups in what may emerge as a hybrid model of therapy in future years, such as is starting to emerge in the field of telemedicine.'
— Peter Yellowlees, MBBS, MD, Professor of Psychiatry, UC Davis; Director of the Health Informatics Graduate Program, UC Davis, California, USA

'In a direct, highly accessible, conversational style, Haim Weinberg tackles an area of the Internet that is so far under-researched by psychotherapists but that has important implications for future practice and theory – the world of the online discussion group/forum/listserve. Weinberg distinguishes this from social media and online group psychotherapy, describing an intermediate area that overlaps and illuminates the other two areas. He particularly highlights the paradox of intimacy and distance that is common in online communication, intensifying a universal dilemma in relationships. He advances the challenging view that this can be resolved in online groups by a simultaneous experience of intimacy and distance. At a time when we stand in awe of the rapid development of internet communication, with fears and fantasies of where it might lead, Weinberg offers a grounded, perceptive, and hopeful account of a phenomenon that has become integral to our lives.'
— Morris Nitsun, consultant NHS psychologist, psychotherapist, group analyst, London; author of The Anti Group and The Group as an Object of Desire
About the Author(s)
Haim Weinberg is a Californian and Israeli licensed psychologist and group analyst. He is Past-president of the Northern California Group Psychotherapy Society and the Israeli Association of Group Psychotherapy. He is the director of an international doctorate program in psychology with an emphasis on group psychotherapy at the Professional School of Psychology, Sacramento, California, where he serves as the academic Vice President.
You may also like