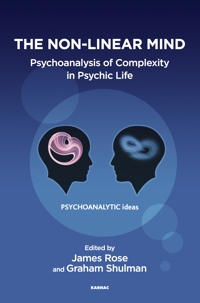 Book Details
Publisher : Routledge
Published : July 2016
Cover : Paperback
Pages : 208
Category :
Psychoanalysis
Catalogue No : 38459
ISBN 13 : 9781782204336
ISBN 10 : 1782204334
Also by James Rose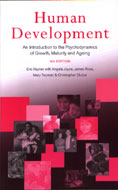 Also by Graham Shulman
This book is concerned with whether we can develop our understanding of the mind through the application of new approaches to the study of complex systems. It is divided into two sections. The first is concerned with the application of non-linear systems theory to the psychoanalytic study of the mind. The second is concerned with the technical application of the ideas of chaos theory to the understanding of therapeutic action and psychic change. It concludes with a consideration of the research and clinical implications of considering the mind as a non-linear system.
Reviews and Endorsements
'This is a challenging and important book, offering new clinical and theoretical insights into the relationship between psychoanalysis and the natural sciences, but moving us far beyond the sometimes reductionist tendencies of neuroscientific models. Most clinicians have an intuitive grasp of complexity and chaos theory, but this book provides us with the resources to ground our experience in detailed conceptual models. Lucid and accessible, the work of these clinically sophisticated authors promises to open new pathways for research and practice.'
— Andrew Cooper, Professor of Social Work, the Tavistock Centre and University of East London
About the Editor(s)
James Rose, PhD, is a Fellow of the Institute of Psychoanalysis and a member of the British Psychoanalytical Society. He has a private psychoanalytic practice in London. Since 1987 he has worked as a psychoanalytic psychotherapist at the Brandon Centre for Counselling and Psychotherapy for Young People, an inner city charity specializing in the psychotherapeutic treatment of adolescents and young adults, situated in Kentish Town, London.
Graham Shulman works for NHS Lanarkshire as a Consultant Child and Adolescent Psychotherapist. He trained at the Tavistock Clinic in London. He has been involved for many years as a tutor on the Scottish Child Psychotherapy training and has also taught Infant Observation. He is a former Editor of the Journal of Child Psychotherapy and was joint editor and contributor to the book The Emotional Experience of Adoption: A Psychoanalytic Perspective, published in 2008.
You may also like