The Function of the Orgasm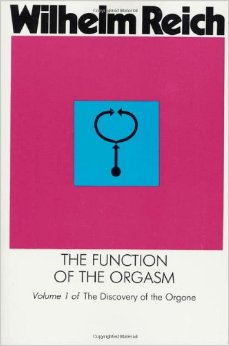 Book Details
Publisher : Souvenir Press
Published : 1989
Cover : Paperback
Category :
Psychoanalysis
Catalogue No : 1388
ISBN 13 : 9780285649705
ISBN 10 : 0285649701
Also by Wilhelm Reich
This book describes Reich's medical and scientific work on the living organism from his first efforts at the Medical School of the University of Vienna in 1919 to the laboratory experiments in Oslo in 1939 which revealed the existence of a radiating biological energy, orgone energy.
The subject of "sexuality" is basic to this work, and Reich shows clearly its importance for human life and its relevance in understanding the social problems of our time.
'The subject of "sexuality" virtually cuts through all scientific fields of research. In the central phenomenon, the sexual orgasm, we meet with questions deriving from the field of psychology as well as from that of physiology, from the field of biology no less than from of sociology. Natural science offers hardly another field of research that is so well equipped to exhibit the fundamental unity of everything that lives and to guard against narrow, fragmentizing specialization. Sex-economy became an independent discipline, having its own methods of research and its own body of knowledge. It is a natural-scientific, empirically rounded theory of sexuality. Now it has become essential to describe its development. In doing so, I am very happy to be able to take the opportunity to clear up what I can claim as my own contribution, how my work is related to other fields of research, and what is concealed behind the hollow rumours about my activity.'
- From the Introduction
About the Author(s)
Wilhelm Reich was an Austrian-American psychoanalyst and psychotherapist. One time student and critic of Freud, he developed many radical ideas, especially regarding the nature and sigificance of sexuality for the human condition. His communist political views also set him opposed to the development of fascism in Europe in the early 20th Century. This, and his early sexual experiences, would greatly inform his work and practice. His radical theories made him one of the most influential and controversial figures in the history of psychiatry. His experiments and theories have influenced decades of psychiatrists and psychologists, and have affected the way therapy is delivered across disciplines.
You may also like