The Feeling Intellect: An Essay on the Independent Tradition in British and American Psychoanalysis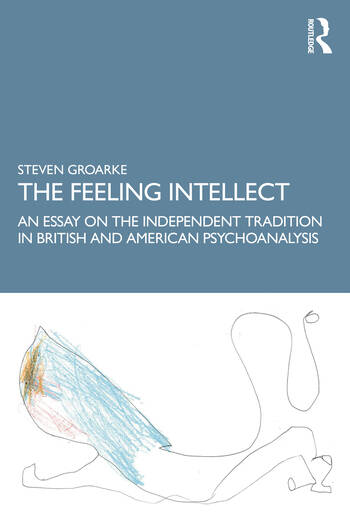 Book Details
Publisher : Routledge
Published : June 2022
Cover : Paperback
Pages : 218
Category :
Psychoanalysis
Catalogue No : 96635
ISBN 13 : 9781138241237
ISBN 10 : 9781138241
Also by Steven Groarke
In The Feeling Intellect, Steven Groarke explores the overlap between psychoanalysis and philosophy in order to provide the first critical evaluation of the Independent tradition in British and American psychoanalysis.
The book focuses on the formation of Independent object-relations theory as an original mid- to late-twentieth-century development in post-Freudian psychoanalysis, focusing on contributions by Fairbairn, Winnicott, Loewald, and others to add to our understanding of what the author terms the dependence relationship: the earliest relationship between mother and infant. The theory of acts and relations provides the basic framework for more detailed discussions of the psychoanalysis of time, including, Loewald's idea of the inner future and the role of re-descriptive memory as a type of reclamation.
This book is aimed at a readership intent on exploring the philosophical aspects of contemporary psychoanalysis in more detail. It will be of great value to psychoanalysts, psychotherapists, and students studying psychology.
Reviews and Endorsements
'This erudite and lucid study of "object relations" is an interesting perspective on the convergences and divergences of the British Independent tradition and the contributions of American relational psychoanalysis. Psychoanalysis needs its theoreticians – for it to grow and develop – and readers have much to gain from diving into this text from a leading theoretician in the British Psychoanalytical Society.' - Christopher Bollas, psychoanalyst and writer.

'With so much literature competing for the analyst's attention, my hope is that enough readers will register the importance of this remarkable book. With an unostentatious mastery, it offers a boldly ambitious and rigorous reconceptualization of the fundamentals of metapsychology from an Independent psychoanalytic perspective. Its contribution to such basic concepts as the drive, the object, time and memory is wholly original and brilliantly stimulating. This is a book to be read and debated for decades to come.' - Josh Cohen, Psychoanalyst and Fellow of British Psychoanalytical Society and Professor of Literary Theory, Goldsmiths University of London.
About the Author(s)
Steven Groarke is a reader in Social Theory at the University of Roehampton, a psychoanalyst of the British Psycho-Analytical Society and a member of the International Psychoanalytical Association. He currently works in private practice in London.
You may also like