The Existential Importance of the Penis: A Guide to Understanding Male Sexuality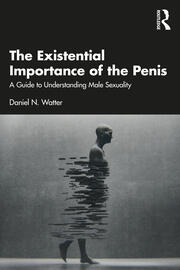 The first of its kind, this book applies existential principles to sexual problems, providing clinicians with the tools to understand male sexuality more deeply.
Alighting from the existential psychotherapy tenets of Irvin D. Yalom, Watter introduces the notion that the penis is a conduit for male emotion, and hence regulates their ability to form and experience intimate relationships. Subsequent chapters explore an existential view of male sexual dysfunction, non-sexual trauma, hypersexuality, changing bodies through illness, age, and injury, and examines badly behaved men to understand the meaning of certain behaviors.
This book will be an invaluable resource for sex therapists, marriage and family therapists, psychologists, and social workers in practice and in training, assisting them to develop the therapeutic skills that will improve their understanding of men's psychological experience.
Reviews and Endorsements
"The Existential Importance of the Penis is a ground-breaking book by the well-respected sex therapist Dan Watter. Traditionally, male sexuality has been simplified--either placed on a pedestal or demonized. Dr. Watter describes existential sex therapy as a way to understand male sex dysfunction. His detailed, complex case descriptions are of great value. This approach emphasizes the role of anxiety and trauma as well as the importance of careful emotional and sexual assessment. He explores the man's inability to integrate sexuality into his life and relationship. Watter's book is a crucial resource for clinicians." - Barry McCarthy, professor emeritus of psychology and author of Contemporary Male Sexuality

"Ostensibly this is a book about men, their penises, and the stories, meanings and histories that underlie common sexual problems such as erectile unpredictability. But that's just the tip of the iceberg. Dan demonstrates beautifully that the penis is most alive in its moments of fallibility, for it is then that the traumas we exiled to our unconscious depths are demanding to be heard and reckoned with. In treating symptoms (sexual or otherwise) we are missing the existential big picture and Dan's book is not just a tonic to the dessicated solutions-oriented ethos we have all internalized, it is a manifesto and rallying cry to live authentically, work deeply and create meaning. It goes without saying that Dan is a master-therapist. But as this book shows us he is also a gifted reader, writer, poet, philosopher and historian. When the penis speaks, we need to listen. And when Dan writes, we need to read." - Ian Kerner, sex therapist and NY Times best-selling author of She Comes First

"Written in a lively, conversational, empathic, and often witty style, mercifully free from psychobabble, The Existential Importance of the Penis is intended mainly for clinicians and male patients, but it will also be of interest to many others, including aging men who experience a "quiet" penis. Female readers and non-patients will also profit from reading the book. Dr. Watter offers us an intriguing guide to "penis speak." One feels pleasure from reading the book, never Schadenfreude. If the penis could read, it would surely learn much from this wise and compassionate study." - Jeffrey Berman, distinguished teaching professor, Department of English, University of Albany, author of Writing the Talking Cure: Irvin D. Yalom and the Literature of Psychotherapy
About the Author(s)
Daniel N. Watter has been a practising clinical and forensic psychologist and certified sex therapist for over 35 years. He is the past president of The Society for Sex Therapy and Research.
You may also like