The Disordered Mind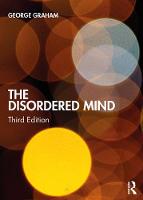 Also by George Graham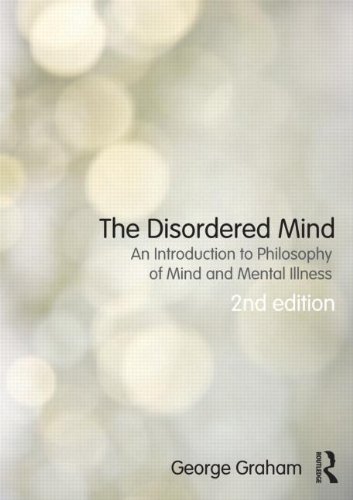 The Disordered Mind: Third Edition, is a wide-ranging introduction to the philosophy of mental disorder or illness. It examines and explains, from a philosophical standpoint, what mental disorder is: Its reality, causes, consequences, compassionate treatment, and more.
Revised and updated throughout, the third edition includes enhanced discussions of the distinction between mental health and illness, selfhood and delusions about the self, impairments of basic psychological capacities in mental disorder, and the distinct roles that mental causation and neural mechanisms play in mental illness.
The book is organized around four questions:
* What is a mental disorder or illness?
* What makes mental disorder something bad?
* What are various mental disorders and what do they tell us about the mind?
* What is mental health and how may it be restored?
Numerous disorders are discussed, including addiction, agoraphobia, delusion, depression, dissociative identity disorder, obsession-compulsion, schizophrenia, and religious scrupulosity, among others. Several neurological disorders are examined. Various problems associated with DSM-5 and with psychiatric diagnosis are explored. Including chapter summaries and suggestions for further reading,
The Disordered Mind is an ideal text for courses in philosophy and should appeal to not just philosophers, but to readers in cognitive science, psychology, psychiatry, and related mental health professions.
Reviews and Endorsements
"This is a superb contribution to the philosophy of mind and mental illness. ... anyone working in philosophy, psychiatry, psychology, neurology, or any of the related mental health professions would find it a fascinating read." - Joseph Martos, The Heythrop Journal.

"...an admirably wide-ranging book that provides a rich and stimulating introduction to central topics in the philosophy of mind... The Disordered Mind should be essential reading both for those who are sympathetic and those who are antagonistic to the idea of a non-reductive notion of mental disorder. ... Not only is it a welcome addition to the rapidly increasing literature on the philosophy of psychiatry, but it also contributes to establishing its legitimacy as a sub-discipline of philosophy." - Somogy Varga, MIND.

"George Graham has a longstanding reputation as a distinguished philosopher of psychiatry, and The Disordered Mind shows why. Its scope is broad and its presentation is clear and precise. It is a very impressive statement of a widespread and important philosophical perspective on mental illness, which everyone studying the philosophy of psychiatry will want to read ... It is clear enough, and vividly enough written, to be assigned fruitfully to undergraduates, but it also makes enough contributions to the central debates in the field to be important for specialists." - Dominic Murphy and Gemma Smart, Notre Dame Philosophical Reviews.

"George Graham is contemporary philosophy's most gifted and humane writer. The Disordered Mind is a wise, deep, and thorough inquiry into the nature of the human mind and the various "creaks, cracks, and crevices" into which it is prone sometimes to wander... The Disordered Mind is a pedagogical, philosophical, and psychiatric tour de force." - Owen Flanagan, Duke University, USA.

"The book is a success, it is consistently insightful and humane, and conveys a clear understanding not only of relevant philosophical topics, but also of a much more difficult issue, the relevance of those topics to understanding mental illness." - Philip Gerrans, University of Adelaide, Australia.

"The Disordered Mind is a must read for anyone who is a psychiatrist, psychologist, philosopher, neurologist, or mental health worker. Indeed, it is a must read for any thoughtful person who simply desires to understand more deeply and more realistically the workings of their own mind as well as the workings of the human mind in general." - Richard Garrett, Bentley University, USA.
About the Author(s)
George Graham has served as philosophy professor at Alabama-Birmingham and Georgia State and as A.C. Reid Professor of Philosophy at Wake Forest University, USA. He is a past president of the Society for Philosophy and Psychology, and co-author of Hearing Voices and Other Matters of the Mind: What Mental Abnormalities Can Teach Us about Religions.
You may also like