The Development of the High Ability Child: Psychological Perspectives on Giftedness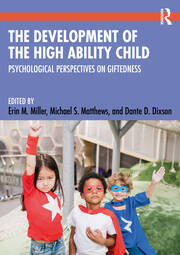 Book Details
Publisher : Routledge
Published : December 2021
Cover : Paperback
Pages : 190
Category :
Child and Adolescent Studies
Catalogue No : 96147
ISBN 13 : 9780367458027
ISBN 10 : 9780367458
This valuable text will help readers to understand the physical, social, and cognitive development of high ability children. Written by experts in the fields of education and psychology, each chapter applies core principles of psychology to the development of gifted and talented children. Through the content, readers will be shown how these children are like all children as well as the ways in which their development is unique.
Covering the psychology of learning and learners, personality differences, language and physical development, problem solving, and motivation of high ability children, this book provides readers with a strong foundation for supporting and developing advanced learners. The text also includes Field Notes and Eye for Diversity sections to enable readers to put into practice, and recognize, important issues being discussed.
Throughout, the editors blend discussions of research with practical advice for individuals charged with nurturing children with advanced cognitive potential. It is an essential read for students, counsellors, administrators, therapists, and parents seeking to support high ability children and their needs.
About the Editor(s)
Erin M. Miller has a doctorate in Educational Psychology with a specialization in gifted and talented children from the University of Virginia. She has been active in the field of gifted education for 15 years, presenting at the National Association for Gifted Children (NAGC) each of those years. She has held multiple leadership positions for NAGC and AERA and is currently the Associate Editor for the Journal of Advanced Academics. She holds an associate professor of psychology position at Bridgewater College where she teaches General Psychology, Memory and Cognition, Biology of the Mind, Creativity and Problem-Solving, and Measurement and Statistics courses.
Michael S. Matthews is a Professor and Program Director for the Academically/Intellectually Gifted graduate programs at UNC Charlotte where he teaches courses related to various aspects of gifted education. He is co-editor of Gifted Child Quarterly and has served as a Board Member of the National Association for Gifted Children. He is also past Chair of the Research on Giftedness, Creativity, and Talent group of the American Educational Research Association, and a former board member for the Metrolina Scholars Academy charter school and the North Carolina Association for the Gifted & Talented. He is author or editor of five books, around 45 peer reviewed articles, and over a dozen book chapters. He presents regularly at state, national, and international conferences, and his scholarship has been recognized with the Early Scholar Award (NAGC), the Pyryt Collaboration Award (AERA), and the Legacy Book Award from the Texas Association for the Gifted and Talented in the category of "Best Scholarly Work".
Dante D. Dixson is an Assistant Professor of School and Educational Psychology at Michigan State University. He currently serves on the editorial boards of Gifted Child Quarterly, the Journal for the Education of the Gifted, School Psychology Review, and the Journal of Black Psychology. In addition, he is a board member for the Roeper Institute and the Michigan Association of Gifted Children. Dr. Dixson's areas of expertise include the role of hope in the educational and psychological functioning of children and adolescents, psychosocial precursors of achievement, and the underrepresentation of minority and disadvantaged youth in gifted education.
You may also like