The Arts Therapies: A Revolution in Healthcare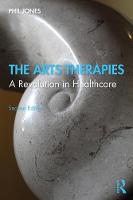 Book Details
Publisher : Routledge
Published : July 2020
Cover : Paperback
Pages : 372
Category :
Expressive Arts Therapies
Catalogue No : 95130
ISBN 13 : 9781138651319
ISBN 10 : 9781138651
Also by Phil Jones

The separate arts therapies - drama, art, music and dance - are becoming available to increasing numbers of clients as mental health professionals discover their potential to reach and help people. But what are the arts therapies, and what do they offer clients? This fully updated new edition of The Arts Therapies provides, in one volume, a guide to the different disciplines and their current practice and thinking in different parts of the world.
Each chapter draws on a variety of perspectives and accounts to develop understandings of the relations between theory, research and practice, offering perspectives on areas such as the client-therapist-art form relationship or on outcomes and efficacy to help articulate and understand what the arts therapies can offer specific client groups. This new edition features 'Focus on Research' highlights from music therapy, art therapy, dramatherapy and dance movement therapy, which offer interviews with researchers in China, Africa, South America, Australia, Europe and North America, exploring significant pieces of enquiry undertaken within recent years.
This comprehensive overview will be an essential text for students and practitioners of the arts therapies. It is international in scope, fully up-to-date with innovations in the field and will be relevant to new practitioners and those looking to deepen their understanding..
Reviews and Endorsements
'This welcome new edition is a brilliant guide to the different but related disciplines of the art, dance, drama and music therapies. It will be of interest to all who are working in the healing arts, in whatever capacity, as well as those contemplating a future career. The well chosen and fascinating vignettes make this an accessible book at all levels. Phil Jones has a refreshing, inspiring and much needed international perspective. This book has learned scholarship and an exciting sense of openness to collaboration, with a generosity of breadth and belief in the value of interdisciplinary dialogue.

In this volume he encompasses the history and development of the separate practices from a global perspective, antecedents, different contexts of practice and embraces recent new developments. Underpinning all his thoughts is the interconnecting play space central to all of the art therapies.' - Caroline Case, author of Imagining Animals: art, psychotherapy and primitive states of mind.

'In this new edition of The Arts Therapies, Phil Jones paints an elegant, multi-colored landscape of the field. He stretches our understanding through time by reminding us of the many streams in history that have led to the arts therapies, and through space by bringing forward many voices from around the world. He argues for diversity and multiplicity, for movement and development, over linear and culturally limited perspectives. This is not a textbook: it is a symphony, a group mural, a ballet, a theatrical spectacle that illuminates the intersection of the arts and therapy, and inspires us to remain open and curious about our profession.' - David Read Johnson, Ph.D., RDT-BCT, Yale University, New Haven.

'This book is an invitation to discover the diversity of the arts therapies as an ever-evolving practice that has arisen from a confluence of ideas and languages. Jones disrupts singular accounts of history, definition, and practice and calls attention instead to how the arts therapies respond to different situations and challenges around the world. The new edition contains a focus on research which both reinforces insights and reveals the complex frameworks through which practitioners seek to assert evidence. This book is necessary reading for all health providers as we contend with a growing awareness of the need for multiple and creative approaches to care.' - Nisha Sajnani, Ph.D., Director, Drama Therapy Program, New York University.
About the Author(s)
Phil Jones is Professor of Children's Rights and Wellbeing and Head of Research Ethics and Governance at UCL Institute of Education. His books on the arts therapies have been translated and published in China, South Korea and Greece. He has given keynotes in many countries including South Africa, Taiwan, the USA and Canada and at the Triennial World Congress for Psychotherapy, Australia.
You may also like