A for Adoption: An Exploration of the Adoption Experience for Families and Professionals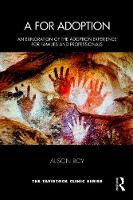 The experience of adoption, both adopting and being adopted, can stir up deep emotional pain, often related to loss and early trauma. A for Adoption provides insight and support to those families and individuals facing these complex processes and challenges.
Drawing on both a psychoanalytic, theoretical framework, and first-hand accounts of adopters, adoptees and professionals within the adoption process, Alison Roy responds to the need for further and consistent support for adoptive parents and children, to help inform and understand the reality of their every-day lives. This book explores both the current and historical context of adoption, as well as its depiction within literature before addressing issues such as conflict in relationships, the impact of significant trauma and loss, attachment and the importance of early relationships, and contact with birth families.
Uniquely, this book addresses the experiences of, and provides support for, both adoptive professionals and families. It focuses on understanding, rather than apportioning blame, and responds to a plea from parents who requested .... a book to help me understand my child better…
About the Author(s)
Alison Roy is a consultant child and adolescent psychotherapist and the professional lead for child and adolescent psychotherapy in East Sussex Child and Adolescent Mental Health Services (CAMHS). She is also the clinical lead and co-founder of a specialist adoption service called AdCAMHS.
You may also like