The Aesthetic Dimension of the Mind: Variations on a Theme of Bion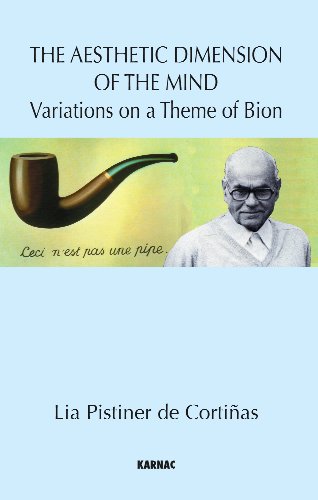 Book Details
Publisher : Routledge
Published : 2009
Cover : Paperback
Pages : 350
Category :
Psychoanalysis
Catalogue No : 27705
ISBN 13 : 9781855756120
ISBN 10 : 1855756129
Also by Lia Pistiner de Cortinas
'In this magisterial work, the author almost encyclopaedically reviews all of Bion's works and does so from the perspective (vertex) of the aesthetic dimension. She scans virtually all the essential elements of Bion's contributions and then details them at length, giving unusual clarifications as she does so..
'This work constitutes an outstanding piece of Bion scholarship and interpretation. One comes away from it with a deep appreciation for the authors dreaming of Bion's work and for the light she has shined on many of Bion's more recondite themes.'
- James Grotstein MD, Professor of Psychiatry, UCLA School of Medicine, from his Preface
Reviews and Endorsements
'Bion is hard for most people to read because of the density and complexity of his style. The author seems to do so effortlessly. Her choice to employ the lens of aesthetics to study Bion is helpful. Alpha-function and/or dreaming intercept the sense impressions of our emotional experiences and transform them into creative as well as more tolerable renditions of the original impending emotional truth. Aesthetics for Bion constitutes a "vertex" (perspective) of consideration of the analytic moment, much like the key which governs and constrains a musical composition. Lia Pistiner de Cortiñas's work is a conception of Bion's works written in the "key" of the aesthetic vertex. She deals with the psychological birth of emotional experience, dreaming, truth, lies, the significance of prenatal experiences, catastrophic change, the caesura, autism, and then courageously ventures into a comprehensive understanding of Bion's three volume A Memoir of the Future. Her references to novelists and poets and her credible clinical examples are noteworthy...'
- James Grotstein MD, Professor of Psychiatry, UCLA School of Medicine

'Bion's introduction of a new model of the mind was a "catastrophic change", a change that in Thomas Kuhn's terms was a "scientific revolution". Lia Pistiner de Cortiñas invites us to enter into the psychoanalytic world that stemmed from this revolution, and to explore its theoretical and clinical landscapes. She unfolds Bion's ideas in a very clear language and focuses her own developments on the "dream like" way of thinking he described, which allows the transformations of very primitive feelings into emotions and thoughts and gives an aesthetic dimension to the human mind.'
- Didier Houzel, Professor of Child and Adolescent Psychiatry, University of Caen

'Lia Pistiner de Cortiñas stresses the significance of the analyst's achievement in developing and using within the session, his or her capability to "dream" the patient's "dream". This quality in an analyst is the basic mental equipment in the clinical practice of psychoanalysis. Evidence of this subtle activity, which the author more specifically relates with dream-work alpha, is presented via illustrations of her clinical practice in the last two chapters. In 'Prenatal Aspects of the Mind', the use of models from theatre and literature as "personifications" gains prominence. These appear as aesthetic tools that allow the analyst to obtain flexibility and binocular vision. The analyst can thereby collaborate with re-establishing the conditions for the patient's viability, autonomy and mental growth.'
- Antonio Sapienza, Psychoanalyst , full member of the Sociedade Brasileira de Psicanálise , Sao Paulo
About the Author(s)
Lia Pistiner de Cortinas is a psychoanalyst, full member and training analyst of the Buenos Aires Psychoanalytical Association (APDEBA), and fellow of the International Psychoanalytical Association (IPA). She has a specialisation in child and adolescent psychoanalysis. She is also a psychologist (PhD) and a lawyer, having acquired degrees from Buenos Aires University.
You may also like