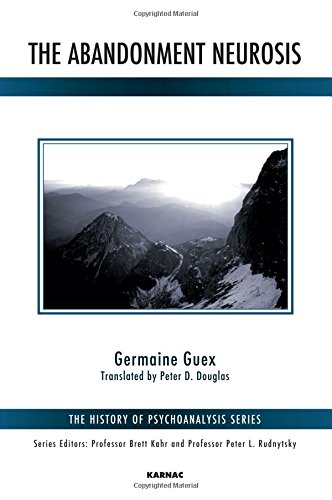 Book Details
Publisher : Routledge
Published : June 2015
Cover : Paperback
Pages : 160
Category :
Psychoanalysis
Catalogue No : 35942
ISBN 13 : 9781782201915
ISBN 10 : 1782201912
First published in 1950, La névrose d'abandon was and still is a ground-breaking work. Guex's research turns on two clinical observations: the frequent occurrence of analysands whose neurotic symptoms are unrecognizable when measured against any of the Freudian diagnostic models, and the relatively large number of these patients who sought help from her, having already undergone thorough classically Freudian treatments with analysts whose abilities were never in question, but whose efforts did nothing to relieve patient suffering.
What all these subjects had in common, Guex observed, were extme and debilitating feelings of abandonment, insecurity and lack of self-worth, originally ignited by severe pre-oedipal trauma. Having described the neurosis of abandonment, Guex goes on to outline every diagnostic tool and treatment methodology, developed over many years, which can be deployed in the successful and lasting eradication of this pervasive neurosis.
Despite its trail-blazing research and ideas, Guex's book never received the accolades or attention it deserved. Now, translated into English for the first time by Peter D. Douglas, it is brought to a new and wider audience, for whom the ideas it explores are just as relevant and significant today.
Reviews and Endorsements
'Everyone in our field who has carried hope for a transdisciplinary flowering of the links between psychoanalysis and cognitive development can rejoice at this rediscovered gem, translated into English by Peter D. Douglas in graceful, accessible prose. Beyond its historical interest, The Abandonment Neurosis is of current clinical interest. Anticipating recent work on attachment, on dissociation,and on trauma theory, Guex provides a fascinating gloss on patients with profound disruption of social bonds and links. She understands that early abandonment leads, along several developmental lines, to the devastation of character, functioning, and relatedness. Bravely for her era, Guex proposes modifications in technique for the relief of these traumatized people.'
— Adrienne Harris, Ph.D, New York University
About the Author(s)
Germaine Guex was born in France in 1904 and died in Lausanne, Switzerland, in 1984. She studied psychology in Geneva and after receiving her diploma from the Institut Jean-Jacques Rousseau became Jean Piaget's assistant in the psychology laboratory. Above all, Guex was drawn to clinical work, so in 1930 she was recruited by psychoanalyst Dr. André Répond, Director of Psychiatry in the Malévoz clinic, Valais Switzerland, to oversee a psychoanalytically-inspired medical and psychological unit, the first of its kind. The work, which focused on children, parents and teachers, aimed at being both a therapeutic and preventative facility. During her years in Malévoz, and through her connection with Répond – who was a member of the Société Suisse de Psychanalyse – Guex became familiar with the work of Freud. Then in the 1940s she moved to Lausanne, began working as a psychoanalyst, and initiated the development of psychoanalytic training in French speaking Switzerland. It was also during this period that she and the psychoanalyst Dr. Charles Odier became companions.
Peter Douglas was born in Wembley, London in 1956. In 1965 he migrated to South Australia with his parents on the ten pound assisted passage, and settled in the satellite city of Elizabeth. In 1972 he joined the Royal Austalian Navy as a Junior Recruit and served five years, mainly overseas. He completed matriculation in 1976 and entered the Flinders University of South Australia the following year. In 1980 he began working as a performer, first as a musician in a touring band, that also made records, and then as an actor. In the 1990s he became a freelance writer, producer and director of theatre, television and film, and in 1995 joined Banksia productions and began making television and film for audiences worldwide.
In 2002 he retired from commercial production and began lecturing in English at the University of Adelaide, where he established the Bachelor of Media course. In 2006 he took up a position at Wilto Yerlo, the indigenous teaching arm of the University of Adelaide, mentoring Aboriginal students through their university courses.
You may also like