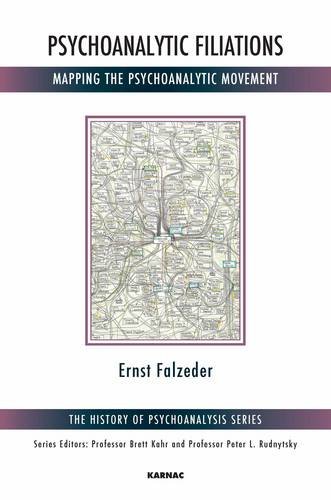 Book Details
Publisher : Routledge
Published : April 2015
Cover : Paperback
Pages : 416
Category :
Psychoanalysis
Catalogue No : 34201
ISBN 13 : 9781782200147
ISBN 10 : 1782200142
Also by Ernst Falzeder
This book presents a collection of fifteen essays on the early history of psychoanalysis, focusing on the network of psychoanalytic "filiations" ("who analysed whom") and the context of discovery of crucial concepts, such as Freud's technical recommendations, the therapeutic use of countertransference, the introduction of the anal phase, the birth of the object-relations-model as opposed to the drive-model in psychoanalysis, and the psychotherapeutic treatment of psychoses.
Several chapters deal with key figures in that history, such as Sándor Ferenczi, Karl Abraham, Eugen Bleuler, Otto Rank, and C.G. Jung, their respective relationship to Freud, and the consequences that their collaboration - as well as conflicts - with him had for the further development of psychoanalysis up to the present day. Other chapters give an overview of the publications of Freud's texts and of unpublished documents (the "unknown Freud"), the editorial policy of the publications of Freud's letters, and the question of Freud's negative attitude toward America.
Most of these essays are single-authored, but three of them are co-authored by highly renowned scholars in the field: John Burnham, André Haynal, and Ludger M. Hermanns. Although all of these papers originally appeared elsewhere, albeit in different books and journals, and in different languages, they are published here for the first time in one compact and easily accessible volume, and in one language.
Also included is a high-resolution colour print of Falzeder's famous graph of the psychoanalytic "spaghetti junction", detailing the filiational network of some 480 early psychoanalysts.
Reviews and Endorsements
'One of the very foremost Freudian scholars, Dr Ernst Falzeder continues to publish resounding contributions to the understanding of psychoanalytic history. Based on years of pioneering archival research, the present collection of essays is indispensable for anyone seeking a more accurate and deeper understanding of Freud and his legacy than that which is currently available in the conventional secondary literature.'
— Patrick Mahony, Professor Emeritus, Université de Montréal; Supervising and Training Analyst (Ret.), Canadian Institute of Psychoanalysis; author of Freud and the Rat Man

'Dr Falzeder offers the reader his immaculate scholarship, which makes him a psychoanalytic archaeologist in addition to an Austrian Sherlock Holmes, discovering psychoanalysts and patients who have been lost, forgotten, ignored, or shunned. Always fascinated by ideas, he shifts his focus from the microscopic to the macroscopic, providing a unique overview. I particularly appreciate Falzeder's rare, impartial perspective. With that, he sheds new light on the tumultuous history of psychoanalysis, especially with respect to the historical role of Eugen Bleuler and aspects of the Freud–Jung relationship.'
— Axel Hoffer, MD, Training and Supervising Analyst, Boston Psychoanalytic Society and Institute; Associate Clinical Professor in Psychiatry (part-time), Harvard Medical School

'Over the last twenty-five years, Ernst Falzeder has represented the crème de la crème of psychoanalysis's historians, setting the standard for a rigorous and creative rethinking of that field. His unparalleled depth of knowledge, his meticulous and astonishing archival explorations, and his incisive scholarship have deeply influenced a generation of scholars. Now with this collection of brilliant, absorbing essays, the secret is out. For anyone interested in the field founded by Freud, this book is not to be missed.'
— George Makari, author of Revolution in Mind: The Creation of Psychoanalysis and Director of the DeWitt Wallace Institute for the History of Psychiatry, Weill Cornell Medical College

'Those who care about the history of psychoanalysis are already hugely indebted to Ernst Falzeder's incomparable labours of editing and translating the Abraham - Freud Correspondence, the Ferenczi - Freud Correspondence, and Jung's seminars on children's dreams. In this book, the fruits of his encyclopaedic knowledge of the history of the psychoanalytic movement are gathered together, demonstrating not only how ingenious his scholarly detective work is, but also how wise and even-handed his reflections are on the complex interactions of secret and public lives, and of the life-changing enmities and pragmatic alliances, that make up that history. Falzeder's map of the web of psychoanalytic filiations has been justly famous for over twenty years; here, finally, the map is unfurled for us with all its detail and significance.'
—John Forrester, Professor of History and Philosophy of the Sciences, University of Cambridge
About the Author(s)
Ernst Falzeder, PhD, is a Senior Research Fellow at the University College London, and editor and translator for the Philemon Foundation of the publication of the Complete Works of C. G. Jung. He is a former research fellow at the University of Geneva, as well as Cornell University Medical School (NYC), and Harvard University (Cambridge, MA). He was chief editor of the Freud/Ferenczi correspondence (3 vols., Harvard University Press), editor of the complete Freud/Abraham letters (Karnac), translator of Jung's seminar on children's dreams (Princeton University Press), and editor, with John Beebe, as well as translator of Jung's correspondence with Hans Schmid (Princeton University Press). He has also written more than two hundred publications on the history, theory and technique of psychoanalysis and analytical psychology.
You may also like