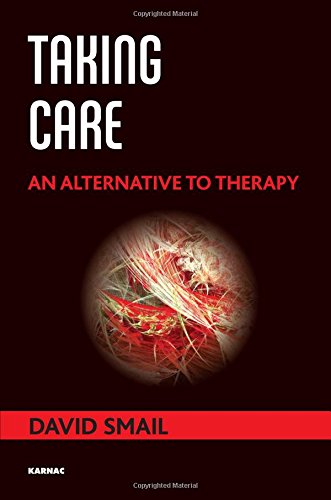 Also by David Smail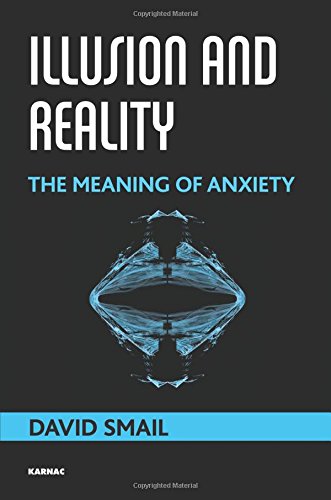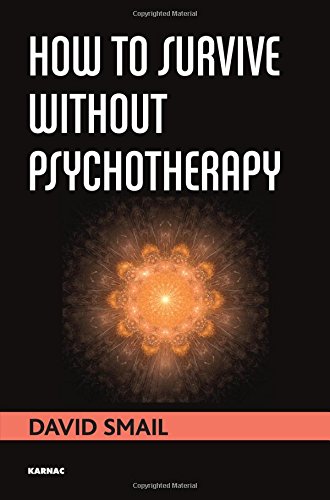 Taking Care established David Smail as an important social and political analyst whose background happened to be in clinical psychology. In this work he develops the analysis of mental illness, and psychology in general, in the contexts of society, power and interest.
People's experience is embodied in the world in which they exist. Notwithstanding the claims of some, psychology cannot, in the same way that magic cannot, change the nature of that experience fundamentally. At best, psychotherapy might provide a degree of understanding about that limitation. The historical relationship between psychology and magic is examined.
The socio-political and economic structures of the society in which we live have the greatest influence on mental health, as on many other matters. Therefore, the individuation of focus in psychology on personal relationships, happiness, and sexuality can significantly miss the point. We need to develop political and social structures that 'take care' of people, to enable them to have meaningful 'public' lives. In that way feelings of self-worth may be fostered, with individuals being less likely to yield to anxiety and distress. Such an environment, further, is more likely to be conducive to successful 'private' relationships.
The unfettered market, allowing some to pursue their interests at the expense of others, it is suggested, is not the mechanism best suited to promote self-worth and minimise anxiety and distress. A wide range of social, political and philosophical commentators are drawn upon, making this a work of scholarship, as well as of contemporary analysis.
Reviews and Endorsements
'David Smail richly deserves his place amongst the great psychological, philosophical and political writers of the modern age. His critical analysis of the way we are harmed by our experiences in a world that is systematically structured to do so demands our urgent attention. Based on decades of experience as a clinical psychologist, his writing liberates us from fake doctrine, illuminates what is best in humanity, and gives us the courage to embrace our fears, inadequacies and fallibility..'
— Elie Godsi, Consultant Clinical Psychologist, therapist, and author of Violence and Society: Making Sense of Madness and Badness

'David Smail was a constructive critic. With finely tuned precision, he cut deeply into what is wrong with psychotherapy and, with wisdom, he pointed to another way to deal with the feelings of despair, anxiety, and depression we experience in contemporary life. He was a genuine psychologist who applied the craft skillfully. Reading what he has written is, for want of a better term, "therapeutic." His books always leave me thoughtful and hopeful, comforted by the sense that here was a man who actually understood something of life and had a grasp of what happiness really means.'
— Dr Tana Dineen, author of Manufacturing Victims: What the Psychology Industry is Doing to People

'David developed clinical psychological ideas that offered a radical and humane approach to understanding and helping people in difficulty. He broadened the scope of the practice of clinical psychology from assessment to reflective therapeutic interventions, and then on to community psychology and locating preventative work and the facilitation of collective activity in communities of interest. His introduction of community psychology roles to mainstream clinical psychology services was innovative and ahead of its time. He endorsed community psychology, and was vigorously pioneering, while also sceptical about aspirations for psychology securing significant social change.

David argued that a rigorous understanding of individuals necessarily incorporates an appreciation of their access to power. He analysed people's proximal powers in the context of distal forces. He described a reflexive approach that means that there are questions that are always pertinent to psychological interventions: What resources are available to this person/family/community? What material, social and economic power is accessible to them? What possibilities for change are afforded by their situations and environments? In whose interests is this intervention? Thus we are always challenged to consider whether services are truly in the interests of the people they purport to help.

David showed us the importance of the quality of relationships, of being humane and modest, and, most importantly, to go beyond individualistic and voluntaristic concepts for understanding and working with people who are distressed. Apart from the thoughtful and practical ways of working that he inspired, he also generated invaluable and creative networks of support and encouragement between people who are committed to the ethical concern that "our common humanity enjoins us to mitigate suffering in others as in ourselves". I shall continue to appreciate David's wisdom and integrity and to remember him very fondly.'
— Jan Bostock, Psychological Services Professional Lead, Planned Care, Northumberland Tyne and Wear NHS Foundation Trust.
About the Author(s)
David Smail was a consultant clinical psychologist in the NHS and Special Professor in Clinical Psychology at the University of Nottingham.
You may also like