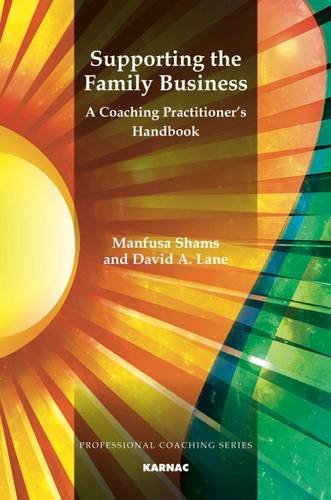 Book Details
Publisher : Routledge
Published : December 2015
Cover : Paperback
Pages : 212
Category :
Coaching
Catalogue No : 35243
ISBN 13 : 9781782201328
ISBN 10 : 1782201327
Also by David A. Lane
Also by Manfusa Shams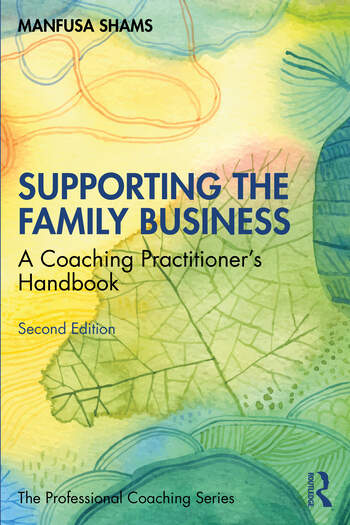 This book aims to offer evidence-based discussion on appropriate coaching skills for family business. The book is expected to meet the demand for this knowledge base, and to achieve a practical solution-focused approach to applying specific coaching skills to family business. The need to generate ideas to develop modern, reliable and appropriate coaching application tools for family businesses is highlighted using experiential and reflective learning approach. The book is focused on understanding the economic growth of family business from a coaching perspective, and provides a critical narrative of selected failures as well as success stories. It has thus a far-reaching goal: to demonstrate the critical connection between coaching skills, family business functions, experiential and reflective learning.
Reviews and Endorsements
'Coaching is a powerful method that can be used to facilitate the achievement of business and personal goals of owners, directors and staff in a family business. However, the first step is to ensure that coaches, coaching psychologists and other practitioners in the field have reflected upon how they can support the business through coaching. In this book each chapter highlights practical activities and recommendations for developing effective coaching practices for the family business. The case studies help to provide the link between the theory and practice of family business coaching. This book will enhance reflective practice of the coach and facilitate change in their client groups.'
—Prof. Stephen Palmer, PhD, Centre for Coaching, London

'This book is an important resource for the personal and professional development of coaches and coaching psychologists, as well as an excellent guide for family business coaching interventions. There is a core focus on learning from practice, which is demonstrated as having equally high relevance to the coach and their client. The use of case studies, key questions, and practice related material and exercises contribute to the creation of a very practitioner-friendly book.'
— Mary Watts, PhD, CPsychol, Emeritus Professor of Psychology, City University London; Business Coach Programme Director, Meyler Campbell, London
About the Author(s)
Manfusa Shams, CPsychol, CSci, AFBPsS, is Consulting Editor of The Coaching Psychologist. She is a Registered Chartered Psychologist, Chartered Scientist, and Associate Fellow of the British Psychological Society (BPS). She is former Deputy Chair for the BPS's committee for teaching of psychology to other professions, and a member of the BPS Special Group in Coaching Psychology. She is former Associate Editor of The Psychologist, Editor of the BPS psychology of women section newsletter, Book Review Editor of the BPS psychology of women section review, and a Guest Editor of the Asian Journal of Social Psychology. Among her major publications is a co-edited book on Developments in Work and Organizational Psychology: Implications for International Business (Elsevier, 2006), and two leading journals: The Psychologist (special issue, 2005), and Asian Journal of Social Psychology (special issue, 2005). She is a registered test reviewer at BPS Psychological Testing Centre, an experienced author, editor, supervisor, peerreviewer, and group facilitator. She completed her PhD in Occupational Psychology from the Institute of Work Psychology, Sheffield University as a Commonwealth Scholar. She has teaching, consultancy, and research experience of almost twenty years. At present, she is teaching at the Open University in England.
David A. Lane is a chartered psychologist and Director of the Professional Development Foundation. He contributes to leading edge research in coaching as well as supervising leading coaches undertaking doctoral research. He was Chair of the British Psychological Society Register of Psychologists Specialising in Psychotherapy and convenor of the Psychotherapy Group of the European Federation of Psychologists' Associations.
You may also like