Supervision in a Changing World: Reflections from Child Psychotherapy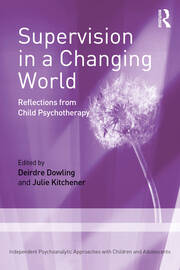 Book Details
Publisher : Routledge
Published : August 2023
Cover : Paperback
Pages : 170
Category :
Child and Adolescent Studies
Category 2 :
Supervision
Catalogue No : 97289
ISBN 13 : 9781032286006
ISBN 10 : 1032286008
Also by Deirdre Dowling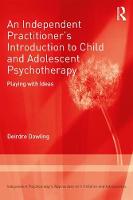 Supervision in a Changing World explores the range of skills and knowledge a child and adolescent psychotherapist brings to the practice of supervision.
Featuring contributions from leading child psychotherapists drawing on their clinical and supervisory experiences, chapters highlight a range of individual supervision approaches. Key issues covered include the history of thinking around supervision; ethical considerations; the interplay between the supervisee and supervisor experience; the complexities of service supervision; working with trauma; and supervising work with children and adolescents with disabilities. The book will also give direct insight into preparing process notes and report writing, research supervision, supervising colleagues in different settings and countries and the training school perspective. Attention is also paid to diversity and power dynamics and the implications of 'remote' supervision (both before and since Covid-19).
One of the few works specifically dedicated to child psychoanalytic psychotherapy supervision, this book aims to meet the needs of child psychotherapist supervisors and those training to become supervisors. It will also be useful for professionals in allied professions, and those who are interested in therapeutic work with children.
Reviews and Endorsements
This book is a breath of fresh air that blows through dusty institutionalised psychoanalytic corridors, cleansing them of sectarian dogma and theoretical driftwood. This collection of essays is independent thinking at its best; it is a real eye (and heart) opener. It might be a cliché, but it is true nevertheless: it needs to be read by every supervisor, and more importantly, by every psychoanalytic training institution.
Farhad Dalal, Psychotherapist and Group Analyst UK; Director of Training, Group Analysis India, Bengaluru

Working therapeutically can at times be daunting for even the most experienced practitioners when we are faced with unthinkable trauma and psychic pain experienced by the children and families we work with. Yet good supervision makes it possible. Here some of the most respected child psychotherapists of their time with decades of clinical experience, show how supervision can be transformational in guiding practitioners in their work, helping to hold and think about difficulty whilst enabling them to find their own voice in their therapeutic practice. This assembly of carefully curated wisdom is a much needed addition to our reading and thinking.
Jane O'Rourke, Psychodynamic Child, Adolescent and Family Psychotherapist, and Founder of MINDinMIND

This very welcome volume from the independent psychoanalytic child and adolescent psychotherapy tradition is long overdue. It covers different aspects of clinical supervision in a variety of settings and brings many of the tensions that supervisors, practitioners and trainees grapple with, in an engaging way. The supervisory superego is one that is inevitably ubiquitous but the papers in this collection address the contradictory task faced in the supervisory process, of transmission of the psychoanalytic tradition at the same time as facilitating the clinician to use their own creativity in their learning and development. It is to be recommended to supervisors and trainees alike.
Angela Joyce, Fellow of the BPAS; Training and Supervising Psychoanalyst of Adults and Children
Table of Contents

Foreword
Francine Conway

Flight Path
Diana Cant

Introduction
Deirdre Dowling and Julie Kitchener

Part 1: The supervisor's task
1. On finding a voice: thoughts on the role of supervisor
Ann Horne

2. What aids learning? Thinking about supervision and teaching from a training school's perspective 
Janine Sternberg

3. Feel the force: the experience of a supervisee on the child and adolescent psychoanalytic psychotherapy training
Ben Yeo

4. Research supervision and its role in the training of child psychotherapists
Evrinomy Avdi

5. On service supervision
Martin Daltrop

6. How can I put this? Writing as supervision
Julie Kitchener

Part 2: Broadening horizons
7. Supervision in extraordinary times
Teresa Bailey

8. Supervising work with children and young people with a disability
Pamela Bartram

9. Enhancing practice: consultation to a therapeutic fostering agency
Iris Gibbs

10. 'A journey of a thousand miles begins with a single step…' Teaching and supervising on a psychoanalytic training programme based in China
Coretta Ogbuagu

11. Lost in transmission
Lydia Tischler

12 Mirrors to ourselves: reflections on peer group supervision
Deirdre Dowling

13 A view from the supervisor's chair: thoughts on turning points and facilitating hope in therapy through face-to-face and online supervision
Monica Lanyado
About the Editor(s)
Deirdre Dowling is a child, adolescent and adult psychoanalytic psychotherapist in private practice in Surrey, UK. She is also a teacher and supervisor. Previously, she worked on the Family Service at the Cassel Hospital, an NHS residential therapeutic assessment and treatment service, and at the British Foundation for Psychotherapy (bpf) as Curriculum Lead for the Independent Child and Adolescent Psychoanalytic Psychotherapy Association (IPCAPA) training.
More titles by Deirdre Dowling
Julie Kitchener is a teacher and training supervisor for IPCAPA at the bpf. Currently in independent practice, she has worked as a child and adolescent psychotherapist in both general and specialist NHS Child and Adolescent Mental Health Services, and for many years was lead psychotherapist in a children's residential community.
You may also like