Stepping into Emotionally Focused Couple Therapy: Key Ingredients of Change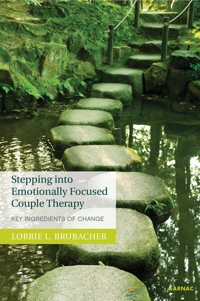 Book Details
Publisher : Karnac Books
Published : October 2017
Cover : Paperback
Pages : 340
Category :
Family, Couple and Systemic Therapy
Catalogue No : 37100
ISBN 13 : 9781782203254
ISBN 10 : 1782203257
Our Customers Average Rating
Read all reviews (2)





This volume makes Emotionally Focused Couple Therapy (EFT) widely accessible to therapists of different orientations and to therapists in training. It provides clinicians with practical tools, an experiential tour through case examples, and simple guidance to step into EFT. An overview of the change events includes both client processes and therapist interventions moment-to-moment.
'In Stepping into Emotionally Focused Couple Therapy: Key Ingredients of Change, each step and stage of EFT is laid out in a practical and theoretically simple manner that extends beyond what therapists need to do, to helping therapists grasp what experiential therapy is, providing moment-by-moment examples of how to engage clients emotionally, and how to foster emotional engagement between partners.'
- From the Foreword by S. Johnson and A. Lee
Reviews and Endorsements
'This is an amazing book! Lorrie L. Brubacher lays out how to do Dr Sue Johnson's emotionally focused therapy (EFT) in a very clear, concise, understandable manner. She also integrates the latest research into the "how to" of practice. This is a must-read for anyone interested in learning EFT.'
- Scott R. Woolley, PhD, Distinguished Professor, Couple and Family Therapy, California School of Professional Psychology, Alliant International University, San Diego, California

'Emotionally focused couple therapy moves confidently into the complex world of relational experiences of couples that are not successful, bringing them the deep emotional experiences of meaning and joy that they are seeking. Dr Sue Johnson's comprehensive model of couple therapy translates the findings of attachment theory into a very organised therapeutic stance involving a sequence of interventions to guide the struggling couple into the experiential patterns that their relationship needs to thrive. In her new book, Lorrie L. Brubacher provides us with an excellent guide for understanding Dr Johnson's treatment model. Brubacher, an experienced EFT therapist, consultant, and trainer herself, is well positioned to invite us to walk with her in understanding a strong, evidence-based, treatment model for becoming engaged with couples in their struggling experiences in ways that enable them to forge deeply satisfying bonds.'
- Daniel Hughes, PhD, founder and developer of Dyadic Developmental Psychotherapy

'In Stepping into Emotionally Focused Couple Therapy, Lorrie L. Brubacher contributes a valuable and much-needed resource for learning Dr Sue Johnson's model of emotionally focused therapy. Brubacher guides the reader on an intimate voyage into the practice of EFT by inviting us into the internal worlds of Emily, an EFT therapist, and three of her couple clients. This text takes a unique approach to exploring the method of EFT by building from experience in the therapy room to an explication of theory. Brubacher draws on the experience of Emily and her clients to clearly and succinctly identify the stages and steps of EFT, the therapeutic tasks and tools, and the markers for change. Added bonuses include an in-depth description of the EFT model for the resolution of attachment injuries and the application of EFT to working with individuals. All therapists, whether novice or seasoned, can benefit and improve their practice through this engaging and relevant read.'
- Gail Palmer, MSW, RMFT, founding member and co-director of the International Centre for Excellence in Emotionally Focused Therapy
About the Author(s)
Lorrie L. Brubacher, MEd, LMFT, is the Founding Director of the Carolina Center for EFT (Emotionally Focused Therapy). A certified trainer with the International Centre for Excellence in EFT (ICEEFT), she is an individual, couple and family therapist since 1989. She is also an adjunct at University of North Carolina, Greensboro, and has previously taught at several Canadian universities. She trains internationally and publishes frequently on the topic of EFT, often with its originator, Dr Sue Johnson. She co-developed EFT's first interactive video training program.
Customer Reviews
Our customers have given this title an average rating of 5 out of 5 from 2 review(s), add your own review for this title.
Roy Hodgson on 12/06/2017 23:49:31





(5 out of 5)
I have been an EFT therapist for over a decade, and Lorrie's book has much to offer even seasoned clinicians. She does a great job of incorporating self-of-therapist blocks and stuck places, and proposing ways to deal with them. Multiple case examples make the material applicable to the couples in our offices. She covers the model clearly and systematically, with a refreshingly smooth and easy-to-read style—it flows from start to finish. Roy Hodgson, MA, LMFT, ICEEFT Trainer
Jennifer Olden on 05/06/2017 20:32:00





(5 out of 5)
This book is FANTASTIC. I love the clear examples and how the author uses a couples narrative to carry the reader along. Emily is relatable and her emotional struggle along side the model's steps and stages is very useful. It validates my struggle to learn EFT and also helps me along the path. Lorrie Brubacher is brilliant and her book is well-written.
You may also like