Sports on the Couch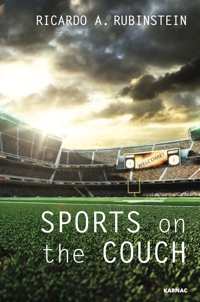 Book Details
Publisher : Routledge
Published : January 2017
Cover : Paperback
Pages : 144
Category :
Culture and Psychoanalysis
Category 2 :
Psychoanalysis
Catalogue No : 38428
ISBN 13 : 9781782204329
ISBN 10 : 1782204326
Bringing together concepts from psychoanalysis with an attentive eye and A. Rubinstein popular wisdom, Sports on the Couch explores the psychology of athletes and those around them. As a product of our culture, sport enables a break for our minds, since it allows us to disconnect from internal as well as external realities. We immerse ourselves in the world of play, managing to let out tensions and liberate a great deal of aggression in a socially acceptable way.
Reviews and Endorsements
'This new collection of ideas by Ricardo Rubinstein opens a new and original field of reflection. Western culture, from its Graeco-Roman origins, has loved, valued and protected the tournament, the competition, and the desire to overcome physical and mental challenges. This book, written by a lover of sport, reveals new horizons of unpredictable partnership and development. The author has deep understanding of the levels of the psyche, tensions, traumas, fantasies and conflicts that sports bring into play. This book is indispensable and wonderfully enriching for those who have the joy of participating in one way or another in the universal game of sport.'
- Dr Andrés Sergio Rascovsky, psychoanalyst, and former president of the Argentine Psychoanalytic Association

'This book takes us on an impeccable and profound tour of all aspects of the sport phenomenon, with a psychoanalytic perspective that deals with scientific aspects, but also considers their psychological and emotional implications. And the author explains all this in simple and direct language in order to make it accessible to the general public. For this reason, it is highly recommended to all those readers who want to delve into the soul of the sport world from an original and thrilling perspective.'
- Horacio Pagani, TV, radio and newspaper journalist
About the Author(s)
Ricardo Alejandro Rubinstein is a doctor, psychiatrist, training psychoanalyst of the Argentine Psychoanalytic Association, and full member of the International Psychoanalytical Association. He is also Professor at the Center of Psychoanalytical Teaching, and has published various works presented at Congresses in Argentina and overseas (Brazil, Colombia, USA, Spain, Holland, Italy and Greece). He is the director of Sportmind, a consulting firm that works with athletes and competition teams, where he also gives courses and seminars about sport topics. He has frequently appeared on radio and television, and written articles for the press and giving his views as a psychoanalyst about topics of general and social interest, but particularly in matters related to sport.
You may also like