Soulfulness: The Marriage of Shamanic And Contemporary Psychology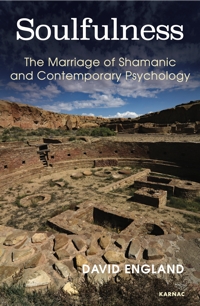 Book Details
Publisher : Routledge
Published : October 2017
Cover : Paperback
Pages : 282
Category :
Jung and Analytical Psychology
Catalogue No : 38856
ISBN 13 : 9781782204756
ISBN 10 : 178220475X
Our Customers Average Rating
Read all reviews (1)





This book brings the wisdom of the ancient healing practice of shamanism together with the insights of contemporary psychology to provide an integrated approach to the treatment of traumatic symptoms.
'Soulfulness' has two historic shamanic roots: Mayan and Native American psychology – a psychology of Self – as expressed in the many aspects of the Medicine Wheel, the wheel of health and wholeness; and the Shamanic Journey and Soul Retrieval, as practiced in traditional societies throughout the world, notably the Tungus tribes of Siberia.
This book presents the ancient wisdom of shamanic theory and practice in a form which is fit for use within the mainstream of twenty-first century psychotherapeutic endeavour, including an extensive explanation of Shamanic Psychology and a practical description of the ceremonies of the Shamanic Journey and Soul Retrieval.
The book reflects on key aspects of contemporary psychological thinking – infant and adult attachment patterns, developmental trauma, the survival personality, imagination and dreams, the spiritual dimension in psychotherapy and counselling – and in extended discussion relates these subjects to the maps and models of Shamanic Psychology, the practice of Shamanic Journey and Soul Retrieval ceremonies, and the psychotherapeutic application of both.
The book brings everything together by offering a practical approach to the integration of psychotherapy and counselling practice with a present-day form of shamanic practice, when working with clients' developmental trauma. The resulting marriage of shamanic and contemporary psychology and practice is called 'Soulfulness'. A counterpoint to the main text is a reflection on a Russian folktale 'The Bold Knight, the Apples of Youth, and the Water of Life', which both implicitly reflects the shamanic landscape and has a powerful psychological resonance.
Reviews and Endorsements
'David England guides us through a wonderful weaving of shamanic wisdom and deep psychological understanding that powerfully builds a contemporary psychospiritual context. We thoroughly recommend this work to coaches, counsellors and psychotherapists who reach for "soulfulness" with their clients.'
- Joan and Roger Evans, co-founders of the Institute of Psychosynthesis, London

'What we know as "psychotherapy" goes right back to the days of the shamans who did psychological and spiritual work as one contiguous whole. David England reconnects these seemingly disconnected fields in this excellent book, which presents a holistic view of the human and the world we live in.'
- Leo Rutherford, MA (Psychology), shamanic practitioner, founder of Eagle's Wing College of Contemporary Shamanism
About the Author(s)
David England is a Psychosynthesis Psychotherapist and Counsellor in private practice. He trained at the Institute of Psychosynthesis, where he worked for seven years as a course tutor. For five years, working alongside a Psychosynthesis colleague, (Simon Smith, author of Inner Leadership), David undertook Psychosynthesis-based business coaching and personal development work with business managers. David trained as a Shamanic Practitioner at Eagle's Wing College of Contemporary Shamanism. He is also a workshop leader, professional storyteller, and public speaker.
Customer Reviews
Our customers have given this title an average rating of 4 out of 5 from 1 review(s), add your own review for this title.
ivon oates on 05/03/2018 18:22:22





(4 out of 5)
To add to the comments already made, this is a timely and readable synthesis by an engaged practitioner with form in both psychotherapy and shamanic practice in the UK. The 'reenchantment' of the soul requires ever deepening understanding. This is especially critical now when cultural exchange, brought about by the 'human flow' of peoples across the globe is unprecedented.

In the sweep of civilisations and their marking, the exploration of the inner life of the individual soul has had many cultural 'markings'. 'Western' approaches and, in this instance, influences from first nation shamanic practices in the Americas can, through exchange, open new flourishing pathways for soul growth.
You may also like