Soulfulness: The Marriage of Shamanic And Contemporary Psychology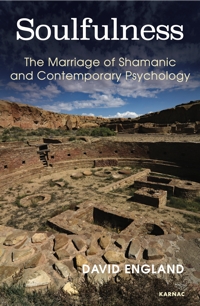 Book Details
Publisher : Routledge
Published : 2017
Cover : Paperback
Pages : 282
Category :
Jung and Analytical Psychology
Catalogue No : 38856
ISBN 13 : 9781782204756
ISBN 10 : 178220475X
Customer Reviews
Our customers have given this title an average rating of 4 out of 5 from 1 review(s), add your own review for this title.
ivon oates on 05/03/2018 18:22:22





(4 out of 5)
To add to the comments already made, this is a timely and readable synthesis by an engaged practitioner with form in both psychotherapy and shamanic practice in the UK. The 'reenchantment' of the soul requires ever deepening understanding. This is especially critical now when cultural exchange, brought about by the 'human flow' of peoples across the globe is unprecedented.

In the sweep of civilisations and their marking, the exploration of the inner life of the individual soul has had many cultural 'markings'. 'Western' approaches and, in this instance, influences from first nation shamanic practices in the Americas can, through exchange, open new flourishing pathways for soul growth.