Sibling Relationships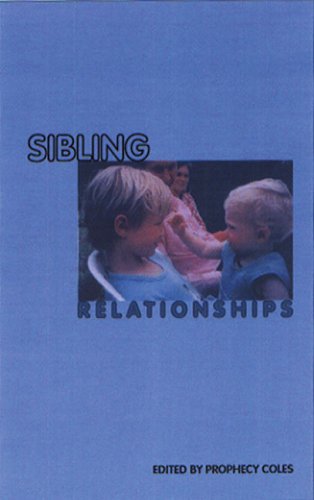 Also by Prophecy Coles
For this volume, Prophecy Coles has brought together a group of distinguished writers to explore a wide range of issues affecting sibling relationships. This exciting collection of papers addresses a long neglected subject in psychoanalytic thinking. Since Sigmund Freud, psychoanalytic attention has focused firmly on the Oedipal triangle and as a consequence sibling relationships have languished in virtual oblivion. In recent years the importance of siblings has started to be investigated but we are still at the beginning of formulating theory on this subject. This book raises fascinating issues for therapists who are forging new forms of thought on the interplay of sibling relationships.
Contributors:
Leonore Davidoff; R.D. Hinshelwood; Vivienne Lewin; Juliet Mitchell; Elspeth Morley; Estelle Roith; Margaret Rustin; Michael Rustin; Jennifer Silverstone; Harriet Thistlethwaite; and Gary Winship.
Reviews and Endorsements
'In her book The Importance of Sibling Relationships in Psychoanalysis, Prophecy Coles showed how psychoanalytic conceptualizations were impoverished by seeing the parents-child relationship as the one elemental source of human psychological development. She demonstrated how important it is to learn about patients' experiences with siblings and then widened her focus, showing that sibling relationships are equally important to understand our views of the world in which we live. In this present book she has brought together an impressive team of writers who show how pervasive and yet elusive the relevance of siblings is - not only in childhood but throughout life - in shaping our world and our lives. Focusing on literature, sociology, mythology, religion, psychology and politics, we have rich and persuasive papers describing the complexity of family and society dynamics over centuries and discussing the multiple ways in which the relationship with siblings influences each individual's position in the world. This book should be welcomed by our psychotherapeutic community and it will also be of great interest to many other readers.'
- Abraham H. Brafman, Psychoanalyst and Child and Adolescent Psychiatrist

'No one can afford to turn a blind eye to the powerful emotional effects of love and rivalry between siblings. We do so at our peril, for we shall enact and compulsively repeat critical issues carried over from the sibling relationship if we do. For this reason Prophecy Coles' collection of important writers on the subject of sibling relationships is essential reading for psychotherapists, parents and siblings. Literary studies will also be enriched by psychoanalytic understanding of key literary texts and the impact of the dead sibling on creative writers.'
- Jeanne Magagna, Head of Psychotherapy Services, Great Ormond Street Hospital for Children

About the Editor(s)
Prophecy Coles trained as a psychoanalytic psychotherapist at the Lincoln Clinic and is a member of the London Centre for Psychotherapy. She has worked as a psychotherapist for 30 years and has published widely on sibling relationships, family and transgenerational conflict.
You may also like