Setting Up and Running a Therapy Business: Frequently Asked Questions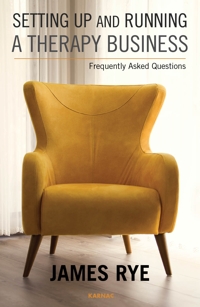 Book Details
Publisher : Routledge
Published : February 2017
Cover : Paperback
Pages : 224
Category :
Individual Psychotherapy
Category 2 :
Counselling
Catalogue No : 38830
ISBN 13 : 9781782204640
ISBN 10 : 1782204644
Also by James Rye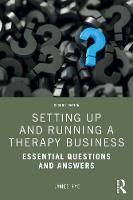 This book answers the questions that therapists frequently ask about setting up and running a business. It allows readers to successfully make the journey from being trained in how to conduct professional therapy sessions to running a growing private practice.
The material covers a range of issues including: registration with HMRC, money issues, marketing, insurance, and whether to work from home or other premises. The book addresses a number of practical questions, such as: Do I have to register with the information commission? What can I count as legitimate business expenses? What mistakes should I avoid when marketing my practice? How can I easily and cheaply accept card payments from my clients? What help can I get to manage my phone calls? How can I get a website? and, What can I do to increase my personal safety?
As counselling in the twenty-first century changes, an increasing number of therapists are using technology to write and store notes, and to communicate with clients – either to arrange appointments, or to conduct them. The author acknowledges this trend, and while not being unaware of potential problems, he addresses practical issues around the use of technology and mentions several services, websites, and apps that he has found helpful in his business.
The demand for counselling to help people deal with their life issues has never been greater, and seems to be increasing as public stigmas surrounding it are slowly evaporating. This book offers detailed, practical advice on how to start and run a successful business in that marketplace.
Reviews and Endorsements
'This book is packed full of practical, clear information about running a therapeutic private practice as a business. The question and answer format allows readers to access specific information easily. The voice of experience shines through and it should be essential reading for counsellors in training and for those new to private practice.'
––Julia Greer, psychoanalytic psychotherapist, couples counsellor and supervisor in private practice; senior accredited MBACP and Fellow of British Association for Counselling and Psychotherapy (BACP)

'James Rye brings his wealth of experience in an engaging and accessible way to a demanding area of practice. Working independently demands professionalism, integrity, experience, together with a commitment to ethics and self-support. This book is an invaluable resource for all considering private practice, as well as those already enjoying its challenges and opportunities.'
––Dr Andrew Reeves, BACP senior accredited counsellor and psychotherapist, BACP Fellow, senior lecturer; chair of the BACP

'This practical book is aimed at helping counsellors, both newly qualified and in private practice already, to understand what needs to be considered and done to run a successful private counselling practice today. It is packed full of useful information, tips and sensible advice from someone who has himself had a long and successful career in private practice.'
––George Brooks, BACP accredited counsellor and supervisor

'This is a succinct, practical and accessible guide to working in private practice. Useful, detailed information is provided throughout and serves to stimulate the reader's reflections, whatever their experience of private practice. Whether setting up a website, accepting payments by credit card, visiting clients in residential care, meeting data storage standards, filling in a tax return or creating a professional will, James Rye's considerable experience in the field shines through, and offers guidance to help practitioners make wise, workable decisions based on a thorough understanding of what is at stake and what options are available.'
––Dr Belinda Harris, associate professor, University of Nottingham; UKCP registered psychotherapist

'I can think of no one better placed than James Rye to provide guidance on the setting up and running of a therapy business. This book draws on his extensive personal experience in private practice and his work supporting others in that field. James shows characteristic attention to detail, answering traditional questions, such as whether to charge for missed sessions, alongside exploring contemporary dilemmas such as maintaining a web presence. I would highly recommend this book to any therapist considering developing a private practice.'
––Susan Utting-Simon, senior accredited MBACP, psychotherapist, counsellor, and supervisor, Chair of BACP Private Practice
About the Author(s)
James Rye has been working as a counsellor in private practice since 1997. He formed Connections Counselling Ltd in 2002 and became a partner in Peterborough Counsellor Training in 2012. He now works as a counsellor/psychotherapist, clinical supervisor, and trainer. In 2010 he was invited onto the Executive Committee of the BACP Private Practice Division and served as Chair from 2013-2015. His committee role involved him visiting many parts of the UK attending training events, promoting the Private Practice Division, and answering questions from people about setting up and running a business as a counsellor. Before finally leaving the world of education in 2001 he worked for thirty years as a teacher and manager in secondary schools, as well as in further and higher education. He lives in King's Lynn, is married, and has two grown-up children.
You may also like