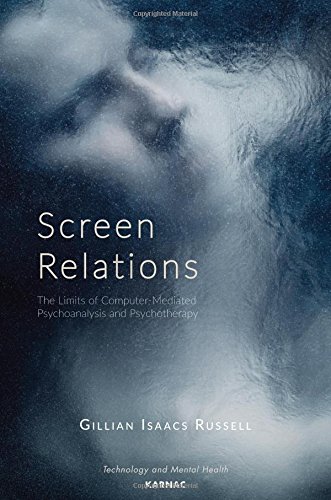 Book Details
Publisher : Routledge
Published : April 2015
Cover : Paperback
Pages : 224
Category :
Psychoanalysis
Catalogue No : 35350
ISBN 13 : 9781782201441
ISBN 10 : 1782201440
Our Customers Average Rating
Read all reviews (2)





Increased worldwide mobility and easy access to technology means that the use of technological mediation for treatment is being adopted rapidly and uncritically by psychoanalysts and psychoanalytic psychotherapists. Despite claims of functional equivalence between mediated and co-present treatments, there is scant research evidence to advance these assertions.
Can an effective therapeutic process occur without physical co-presence? What happens to screen-bound treatment when, as a patient said, there is no potential to "kiss or kick?" Our most intimate relationships, including that of analyst and patient, rely on a significant implicit non-verbal component carrying equal or possibly more weight than the explicit verbal component. How is this finely-nuanced interchange affected by technologically-mediated communication?
This book draws on the fields of neuroscience, communication studies, infant observation, cognitive science and human/computer interaction to explore these questions. It finds common ground where these disparate disciplines intersect with psychoanalysis in their definitions of a sense of presence, upon which the sense of self and the experience of the other depends. This new data reveals surprising and non-intuitive elements, providing a rich knowledge base for better understanding how people experience screen relations based treatments.
Embedded throughout the book are the movingly clear voices of clinicians and patients themselves, describing their experiences using technology for treatment. Gillian Isaacs Russell, whose own clinical experience using technological mediation inspired her exploration of therapy on the digital frontier, pays particular attention to the specific gains and losses of mediated communication of which clinicians should be aware before undertaking technologically-mediated psychoanalysis or psychotherapy.
Reviews and Endorsements
Read a review of this title in 'Soundcloud webinars'
Read a review of this title in 'New Books in Psychoanalysis (Podcast)'
'This book is not anti-technology; it is pro-psychoanalysis. Gillian Isaacs Russell comes up with a deeply humanistic, forward-looking book that does not deny the power of technology but insists that we use it to more thoroughly understand our human purposes. As an analyst or therapist, before you use Skype or FaceTime, read this. You'll better understand the new human terrain on which you work.'
— Sherry Turkle, Director, MIT Initiative on Technology and Self, Massachusetts Institute of Technology, and author of Life on the Screen: Identity in the Age of the Internet

'This is a pioneering work that gives a balanced, nuanced, and comprehensive picture of how the screen affects therapeutic dialogues and makes a strong advocacy for the necessity of the co-presence of two persons in the consulting room. It is a must-read for psychoanalysts and psychotherapists who find technologically mediated treatment necessary in their work with patients.'
— Sverre Varvin, MD, PhD, past President of the Norwegian Psychoanalytic Society; Chair of International Psychoanalytical Association China Committee; Professor at Oslo and Akershus University College of Applied Sciences

'Gillian Isaacs Russell explores vast territory, including patients' and therapists' experiences, clinical theory, and intriguing research in cognitive neuroscience, information communication theory, and virtual reality. Her skilful explication and incisive analysis of how the technological medium affects our patients, ourselves, and the analytic process makes it readily apparent that simulated treatments have limits and consequences, and knowing this enables clinicians to make smart choices about whether and when to conduct such treatment. This very well-written book is essential for anyone who wants to think carefully about computer-mediated treatment.'
— Don Greif, PhD, Co-Editor-in-Chief, Contemporary Psychoanalysis; Faculty, William Alanson White Institute, New York

'This well-written book is a must for analysts and therapists conducting therapy online or planning to do so. It contains many valuable insights into aspects of "the communicating cure", which many of us tend to overlook in practice, including: aspects of embodied intersubjectivity such as shared physical space, shared temporality, moving to and from the consulting room, and, above all, "being in the presence of someone" as essential for becoming oneself.'
— Jon Sletvold, PsyD, Faculty, Training and Supervising Analyst, Norwegian Character Analytic Institute; author of The Embodied Analyst: From Freud and Reich to Relationality

'Gillian Isaacs Russell raises searching questions that need considering by anyone concerned with the future of psychoanalytic therapy, and especially by those involved in the training of therapists. In its thoroughness and range, her book is a remarkable achievement. It needed to be written, and it needs to be read.'
— Michael Parsons, British Psychoanalytical Society; French Psychoanalytical Association
About the Author(s)
Gillian Isaacs Russell, PhD. is a member of the British Psychoanalytic Council and has been in private practice since 1988. She has been on the Editorial Board and Book Review Editor of the British Journal of Psychotherapy. Dr Isaacs Russell consults, supervises, lectures and teaches internationally. She currently lives with her family in Boulder, Colorado.
Customer Reviews
Our customers have given this title an average rating of 4 out of 5 from 2 review(s), add your own review for this title.
H. Raphael on 18/12/2015 17:10:38





(5 out of 5)
This is a well-written analysis of how technology affects communication in the therapeutic process. Groundbreaking research integrating cognitive and neuroscience and information communication theory with clinical and theoretical psychoanalytic theory. I found it especially helpful in considering any future psychoanalytic work on Skype. Dr. Russell's balanced approach allows one to assess if and when a technologically mediated treatment would be useful and appropriate. A must for anyone who works or is considering working via technology.
K. Taylor-Crawford, MD on 25/02/2015 00:10:32





(3 out of 5)
I am anxious to see this book in its entirety. As a Child psychiatrist, who had the experience of two classic psychoanalyses (one, a training analysis as a resident & fellow; two, as an attending and chair of psychiatry, at a major urban hospital), it is interesting to read others' opinions versus actual collected data on different therapeutic experiences. In my first classic psychoanalysis some 30 years ago, my analyst sat in a chair out of my view, as I lay on the couch gazing at the patterns of his acoustic tiles. I got very little view of his face except upon entry and exit.

As a psychiatric clinical assistant professor at a midwest medical school, I performed psychiatric evaluations over the internet (a T-line, so it was HIPPA protected) with teens downstate for about 4-6 months. I have to say with teens, this face to face contact by internet was comfortable and very informative. But I also have to say, I always had contact/information from collaterals to supplement my interview; but I get collateral info when I do face to face evaluations.

It is my belief that therapy with an individual, without the benefit of other source material about function in their 'outer life' often lacks the frame of reference that so elucidates/clarifies the interpersonal interactions and conflicts described. So I am of the opinion that computer facilitated psychotherapy has great promise, but seeing the whole person requires setting parameters to facilitate the exploration, whether the practitioner is face to face or has a computer facilitated interaction.
You may also like