Sadism: Psychoanalytic Developmental Perspectives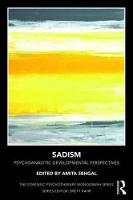 Book Details
Publisher : Routledge
Published : May 2018
Cover : Paperback
Pages : 224
Category :
Forensic
Category 2 :
Psychoanalysis
Catalogue No : 38828
ISBN 13 : 9781782206378
ISBN 10 : 178220637X
Voyeuristic sadism as a form of entertainment seems to be on the rise, the increase corresponding with an upsurge in public appetite for sadomasochism as a recreational activity. Over the last half-century, through books, movies, computerized video games and drama, the stories we are being sold as representing aspects of contemporary culture market two commodities: sadism and victory. How might we understand this, and can psychoanalysis help us make meaning of this aspect of human relating?
This book is founded on the premise that paying close attention to what is happening in our internal world can help us understand the rise of sadism in the world of popular culture. It is a forum in which psychotherapists present psychoanalytic perspectives on the phenomenon of sadomasochism at different stages of the human lifecycle: childhood, adolescence, adulthood and in later life, and consider its developmental roots.
This book does not seek to provide an explanation or a theory of sadomasochism. Instead, it offers a thinking space in which we might further our understanding of the developmental origins of sadomasochistic relating and how this can manifest at different life-stages.
With contributions from Graham Music, Damian McCann, Morit Heitzler, Valerie Sinason, Richard Curen, Brett Kahr, Susan Irving, John Miller, and Sandra Evans.
About the Editor(s)
Amita Sehgal is a couple psychoanalytic psychotherapist accredited by the British Psychoanalytic Council. She is a Visiting Lecturer at Tavistock Relationships, London, and a Consultant Psychotherapist at The Balint Consultancy, London. Amita has a special interest in the neurobiology of contemporary attachment perspectives in couple psychotherapy. Amita's on-going interest in the psychological process of separation and divorce informs her commitment to resolving family disputes out of court, in a non-confrontational and constructive manner. She also consults to family lawyers on strengthening client-lawyer relationships, as well as on the emotional impact of family work on themselves as legal professionals. Amita is published in the field of couple psychotherapy. She maintains a private practice in Central London.
You may also like