Sacred Therapies: The Kundalini Yoga Meditation Handbook for Mental Health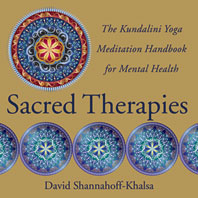 Also by David S. Shannahoff-Khalsa
A simplified version, for consumers, of yoga protocols for optimal mental health.
This comprehensive handbook presents Kundalini yoga protocols that cover all of the major and common psychiatric disorders. In addition, the critical definitions, diagnostic criteria, diagnostic features, and associated features and disorders are included to give a clearer and more in-depth perspective on many disorders, including Anxiety and Generalized Anxiety Disorder, Obsessive Compulsive Disorder and Obsessive Compulsive Spectrum Disorders, Phobias, Panic Attacks and Panic Disorders, Acute Stress Disorder, Post Traumatic Stress Disorder, the Abused and Battered Psyche, Major Depressive Disorders, Grief, the Bipolar Disorders, the Addictive, Impulse Control, and Eating Disorders, Insomnia and other Sleep Disorders, Chronic Fatigue Syndrome, ADHD and Co-morbid Disorders (Oppositional Defiant Disorder and Conduct Disorder), Dyslexia and Other Learning Disorders, Schizophrenia and the Variants of the Psychoses, the Personality Disorders(Paranoid, Schizoid, Schizotypal, Antisocial, Borderline, Histrionic, Narcississtic, Avoidant, Dependent, and Obsessive Compulsive Personality Disorder), and Autism and Asperger's Disorder. These protocols will not only help clinicians prescribe at-home strategies for self-healing and relief, but will give those suffering from each disorder insight into their own symptoms and tools for managing them independently.
Readers will not only gain insight into their own symptoms, they will also gather the strategies essential for self-healing and relief.
You may also like