Ruptures in the American Psyche: Containing Destructive Populism in Perilous Times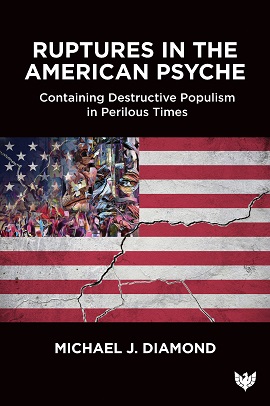 Book Details
Publisher : Karnac Books
Published : May 2022
Cover : Paperback
Pages : 140
Category :
Psychoanalysis
Catalogue No : 96458
ISBN 13 : 9781800131279
ISBN 10 : 9781800131
Also by Michael J. Diamond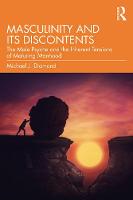 This book describes Trumpism: the strong allegiance to former President Donald Trump that is in evidence among a sizable portion of the US population. How did Trump come to be elected in 2016, and who supported him during his presidential tenure - and why? How is it that he continues to hold cult-like status, exerting a strong influence not only on many individuals but also on numerous elected officials, despite his defeat in 2020? Why does his character continue to be an object of fascination even among anti-Trumpists, and why will Trumpism continue to play a major role in the American sociopolitical landscape even now he has left the presidential stage?
Michael J. Diamond ponders these questions through the lenses of American history and culture, political theory, social phenomena, group dynamics, and psychoanalysis. In exploring the relationship between large-group regression, cultism, destructive populism, delusional thinking, conspiratorial beliefs, authoritarianism, and leadership characterised by narcissism and paranoia, psychoanalytic ideas pertaining to group dynamics, malignant regression, and leadership are brought into play. Prominent psychoanalytic thinkers who have addressed these topics and whose work usefully contributes to the discussion include Bion, Freud, Fromm, Bollas, Kernberg, Lifton, Rosenfeld, and Volkan, as well as Bleger, Jaques, and several more recent Kleinian/Bionian-influenced analysts. Most important, the book makes use of these understandings to reestablish a sufficiently containing frame that strengthens the body politics' nonpathological elements in order to come to grips with these disturbing factors.
Whatever their political beliefs, psychoanalysts in the US and worldwide will find much to think about in reading this book's application of their discipline to today's sociopolitical environment. In addition, the book's insights extend beyond arguments targeting a strictly psychoanalytic audience in order to reach social and political thinkers, as well as activists, who are deeply concerned about dangers threatening the very foundations of democracy in the US and worldwide. And finally, the thoughtful lay person will appreciate the accessibility to all these fields that the book provides, and will come away with a much deeper understanding of just what motivates us to take a stand for or against a given political figure. In short, conceptual tools are provided that lead to greater understanding as well as effective strategies and tactics for containment of destructive forces - largely unconscious ones - that imperil our society.
Reviews and Endorsements
Michael Diamond presents a profound interdisciplinary understanding of the disturbing and dangerous psychic ruptures that currently exist on both the individual and group level not just in America but around the world. He shows how existential anxiety underlies a vulnerability to malignant leadership and is intensified by the perfect storm of physical threat, socioeconomic inequity, climate crisis, and growing individual and large-group violence. Diamond argues for the combined containing power of psychoanalytic understanding and social institutions to remedy the threatened loss of humanity in today's post-truth world. A diverse readership of psychoanalysts, social scientists, politicians, and concerned citizens will enjoy his generous cross-disciplinary glossary of terms.
Harriet Wolfe, M.D., President, International Psychoanalytical Association

Michael J. Diamond reminds us that despite Donald Trump's loss of the 2020 election, the cult of Trumpism continues in the United States. In 2021, Trump was banned from Facebook, Twitter, and YouTube. In February 2022, Trump's social-media platform, Truth Social, was launched. Psychoanalytic understanding of large-group regression, destructive populism, authoritarianism, malignant narcissism, paranoia, and other related situations becomes not only important but a needed element in examining ruptures in the American psyche. The author's review of psychoanalytic approaches to the understanding of unconscious group dynamics and leader–follower relationships is very rich. The author also reminds the reader that psychoanalytic findings are beneficial when they are synthetized with discoveries from other professions, such as political science, history, and sociology. This book will inform the reader of not only what is happening in the United States but also events worldwide.
Vamık Volkan, MD, DLFAPA, Professor Emeritus of Psychiatry, University of Virginia; Founder and President Emeritus of International Dialogue Initiative; author of Enemies on the Couch: A Psychopolitical Journey Through War and Peace

The publication of this book could not be more timely. It comes at a time that is as difficult as it is crucial for humanity, with the Covid-19 pandemic now joined by a war. While it is an in-depth analysis of the sociopolitical circumstances in the United States, the psychoanalytic insight it provides gets to the heart of a chronic and enduring global problem: the destructiveness of the human species and the high cost of its denial. Although the book was written before the war began, it is proof positive that psychoanalysis has much to contribute to the effort to understand this lethal component of human nature that endures and persists. Michael Diamond shows us in his excellent and insightful essay how psychoanalysts can use our experience and knowledge of mental functioning in terms of impulses, notions of group mentality, conspiracy theories, and malignant leadership in trying to understand the persistence of these modes of functioning in our society. It is an ethical position to make our voice heard at times when impulses of violence, xenophobia, and destruction predominate. In this commitment lies not only the permanence but also the expansion of psychoanalysis.
Virginia Ungar, M.D., former President, International Psychoanalytical Association; Training Analyst, Buenos Aires Psychoanalytic Association

Michael Diamond, well known in the psychoanalytic world for his many brilliant papers, brings his deep psychoanalytic understanding of a growing sociopolitical problem that threatens democracy throughout the world. Diamond has accomplished a remarkable feat by bringing in a vast amount of data from the social sciences and integrating it with a wide variety of psychoanalytic perspectives. This is an important book for anyone concerned about the state of our global politics and will reward those interested in how psychoanalytic insights can better help us understand this crucial time.
Fred Busch, Ph.D., Training and Supervising Analyst, Boston Psychoanalytic Institute; author of A Fresh Look at Psychoanalysis

With a remarkably broad scholarship, consistently interdisciplinary vision, and a truly concerned heart, Michael Diamond offers us fresh insights into the deeply polarized political scene in today's United States. He links his psychopolitical perspective to the psychoanalytic notions of group regression, malignant narcissism, and projective identification without losing anchor in the social anthropology of manufactured truths and the lure of fundamentalism. In both his "diagnostic" understanding and "therapeutic" recommendations to what he calls "a society in peril," Diamond strikes us as compassionate, theoretically anchored, and generous of spirit. The addition of a glossary of the terms used in this book and a comprehensive bibliography further enhances the value of the author's contribution. This is applied psychoanalysis at its best!
Salman Akhtar, M.D., Training and Supervising Analyst, Psychoanalytic Center of Philadelphia; author of many books, including Mind, Culture, and Global Unrest and Tales of Transformation

[Diamond's] care in marshaling his evidence and substantiating his conclusions proves that his is a promising approach to diagnosing the current populist moment.
R. P. Seyb, Skidmore College, CHOICE Connect, 60:11, 2023
Table of Contents

Acknowledgments
About the author
Preface

1. Introduction: Exploring the Nonrational, Unconscious Dimensions in American Politics

2. Democracy and Populism: Sociopolitical Perspectives on the American Experiment

3.Psychoanalytic Perspectives on Destructive Populism and Large-Group Regression: The Rise of Trumpism in the US

4. Psychotic Processes, Paranoia, and Conspiratorial Thinking in Large Groups

5. The Malignant Leader's "Perversion" of the Containing Function and the Perils of Cultism

6. Containing Trumpism and Destructive Populism: Addressing, Encompassing, and Restraining Regressive Malignant Dynamics

7. Concluding Thoughts: A Plea For Hope In These Uncertain Times

Glossary of terms
References
Index
About the Author(s)
Michael J. Diamond, PhD, is training and supervising analyst and faculty member, Los Angeles Institute and Society for Psychoanalytic Studies; faculty member, Wright Institute, Los Angeles; and associate clinical professor of psychiatry, University of California, Los Angeles. His major publications are on psychoanalytic technique, psychoanalytic gender theory, treatment of early trauma and dissociation, and fathering and masculinity.
You may also like