Revealing the Inner Worlds of Young Children: The MacArthur Story Stem Battery and Parent-child Narratives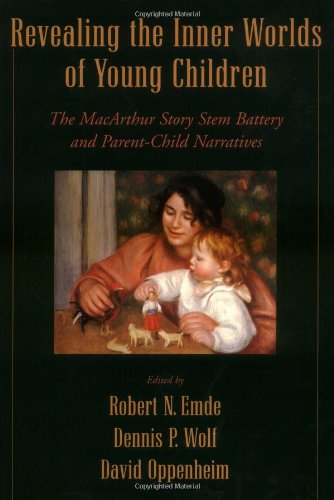 Also by Robert N. Emde
Also by David Oppenheim
Typically, we make sense of our experiences and interactions in a way that is guided by emotion and that takes the form of a narrative or a story. Using narratives, we can tell others about our experience, share common meanings, imagine possibilities, and co-construct new meanings. It is thus a momentous development when, at around age three, a child acquires the capacity to construct narratives.
This book reports the work of a 20-year collaboration between 36 psychologists who have created and investigated a new tool to elicit and analyze children's narratives. This tool is the MacArthur Story Stem Battery, a systematic collection of story beginnings that are referred to as 'stems'. These stems are designed to elicit information from children about their representational worlds. This method is particularly exciting because using it allows developmental psychologists to gain information directly from children about their emotional states and what they are able to understand, and in turn, to use this information to explore significant emotional differences among children.
About the Author(s)
Robert Newcomb Emde, MD, is Emeritus Professor of Psychiatry, University of Colorado School of Medicine, and currently consults at the Centers for American Indian and Native Alaskan Health at the Colorado School of Public Health. As an early childhood researcher and psychoanalyst, he was a member of the US committee that wrote the guidelines for Early Head Start and was a leader in its seventeen-site national RCT that initiated that program. He is a Past President of the Society for Research in Child Development, and serves as Honorary President of the World Association for Infant Mental Health, as well as on the Board of Directors of Zero To Three: The National Center for Infants, Toddlers and Families.
You may also like