Relational Organisational Gestalt: An Emergent Approach to Organisational Development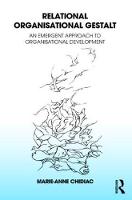 Book Details
Publisher : Routledge
Published : March 2018
Cover : Paperback
Pages : 288
Category :
Organisational Psychology
Category 2 :
Gestalt Therapy
Catalogue No : 39256
ISBN 13 : 9781782205234
ISBN 10 : 1782205233
This book provides a comprehensive view of the application of Relational Gestalt theory to Organisation Development and change interventions in organisations.
Uncertainty and frequent change are the hallmark of our times. In the field of Organisational Development and Change, fixed methodologies no longer adequately address the uncertainty and uniqueness of today's more complex change situations and more adaptive approaches to change are needed.
Gestalt is a relational, dialogic, and emergent approach which means that it views individuals and organisations as embedded in their context, dependent on, and emerging from within a web of relationships and interactions. As such, Gestalt offers a transformative, integral and bespoke methodology for working with this complexity. This approach supports practitioners to attend to their presence, seek out the most pressing issues and mobilise for sustainable change. Gestalt has at its heart the notion of use-of-self as instrument which allows practitioners to be responsive to emergent issues and situations.
Relational Organisational Gestalt is at the leading-edge of Gestalt theory and application in organisational settings. It explores key skills and methods of a relational Gestalt organisational practitioner such as inquiry into here-and-now embodied experience, identification and engagement in dialogue and finally, embedding and sustaining change in the field. Developing personal awareness, presence and use-of-self is a fundamental part of facilitating change. Each chapter therefore offers guidance regards application and suggests experiential exercises.
Gestalt has long been at the forefront of psychological approaches applied to Organisational Development and change in organisations. This book offers a radically relational approach that is accessible to coaches, consultants, facilitators, managers and other OD practitioners.
About the Author(s)
Dr Marie-Anne Chidiac is an experienced change and OD consultant, coach, trainer, psychotherapist and supervisor. She has over twenty years' experience of leading change in both the public and private sectors. She is co-founder of 'Relational Change', an organisation that works to develop relational skills in individuals, teams, organisations and communities. Marie-Anne is an Accredited Coach and Associate of Ashridge Business School and holds a DPsych in Public Works with a focus on the synthesis of Gestalt psychotherapy and Organisational Development.
You may also like