Recovering from Psychosis: Empirical Evidence and Lived Experience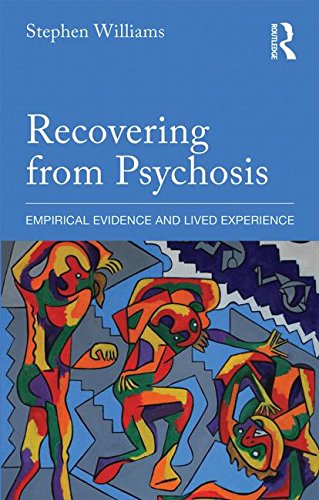 Book Details
Publisher : Routledge
Cover : Paperback
Pages : 168
Category :
Clinical Psychology
Catalogue No : 37679
ISBN 13 : 9780415822053
ISBN 10 : 041582205X
Our Customers Average Rating
Read all reviews (1)





The use of first-hand service user accounts of mental illness is still limited in the professional literature available. This is, however, beginning to change, with a new 'recovery' focus in mental health services meaning that the voices of service users are finally being heard. Recovering from Psychosis: Empirical Evidence and Lived Experience synthesises a narrative approach alongside an evidence-based review of current treatment by including Stephen Williams' own personal experience as it relates to psychosis, recovery and treatment. A mental health professional himself, the author's account of his own recovery from severe mental health difficulties, without sustained intervention, challenges the orthodoxy of representation of service users in mental health.
Recovering from Psychosis critically explores and reviews the current state of the art of research and knowledge about the nature and treatment of psychosis. Working simultaneously from empirical, lived experience and philosophical perspectives, Stephen Williams: Evaluates political and power related issues in professional understanding, knowledge-creation and treatment of people with psychosis; Introduces the current 'recovery movement', unpacking its origins and implications for the future development of 'recovery oriented services'; Reviews, summarizes and critiques the current state of 'recovery' research, looking at the advantages and disadvantages of such an approach, examining how this is influencing the transformation of UK mental health services; Analyses the difficulties in organisational implementation of recovery approaches, summarises the most empirically robust approaches to practice, personal and service delivery measurement; Reviews current 'models' of psychosis and how various professional scientific groups explain the experience and nature of psychosis; Uses lived-experience accounts taken from the scientific literature, portraying the nature of such experiences and analysing them in the face of contemporary psychological models.
Recovering from Psychosis is an essential comprehensive guide for mental health professionals, psychologists, social workers and carers, who are working with people with severe and enduring mental health difficulties diagnosed as psychosis. It addresses the practical implications of working with such difficult conditions and serves as a hopeful story of recovery for service users.
Customer Reviews
Our customers have given this title an average rating of 4 out of 5 from 1 review(s), add your own review for this title.
John Simpson on 06/12/2015 00:38:12





(4 out of 5)
This slender volume packs an awful lot into it. It surveys what the current understanding of psychosis is in psychiatry and challenges this without becoming an anti-psychiatry rant, which is refreshing. Throughout the book the author reflects on his own experiences of psychosis as a young man and how this relates to his exploration of evidence about recovery and treatment. I found this to be illuminating. The book summarises recent psychosis treatments and their empirical validity at the same time as it questions what value empirical research has to mental illness. I found this thought provoking. It isn't uniformly positive about recovery as he reviews potential abuses of recovery particularly in our turbulent political climate.
You may also like