Racism and Cultural Diversity: Cultivating Racial Harmony through Counselling, Group Analysis, and Psychotherapy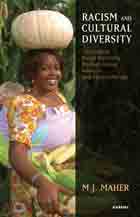 M.J. Maher writes for all those interested in the dynamics of racism, from professionals in counselling, group analysis and psychotherapy working in multiracial and multicultural societies to those exposed to racism who need help in dealing with the impact of their experiences. She also addresses the concept of victims becoming perpetrators if support is not given to contain the process.
Herself a group analyst, the author experienced at first hand racial discrimination within the system, but rather than succumb has instead produced an enduring and proficient work that draws heavily on personal experience. Combining years of counselling skill with a natural compassion, she makes the subject of racism approachable, thus motivating all those wanting to explore the issues. For people whose experience of broken attachments crosses racial lines, this book is possibly the first to use Bowlby's Attachment Theory as a framework for understanding racism.
Reviews and Endorsements
'M.J. Maher makes an outstanding contribution which clearly reflects the insights of my father, John Bowlby, and his groundbreaking work on Attachment Theory. Maher's seminal work has thoroughly caught the spirit of how disrupted family bonds combined with racial discrimination can create such a lasting impact. I commend this book to all those involved in this most important field.'
- Sir Richard Bowlby

'We must read this impressive book. Here we have a serious attempt to change the psychoanalytic world. There is a bridging across from the psychotherapeutic context to qualitative research, and links are made with approaches to subjectivity in psychoanalysis. This is also "action research", for it aims to change the world at the same time as it interprets it.'
- Professor Ian Parker, Department of Psychology, Manchester Metropolitan University
About the Author(s)
M. J. Maher was born in Zimbabwe. She obtained her teacher training from Mutare Teachers' College and taught at Chitsere Government School in Mbare, Harare. As a teacher, she also worked for the Ministry of Education as a manuscript evaluator for the Curriculum Development Unit and also as a school radio lessons script writer for Audio Visual Service. She left teaching to be an editor for Zimbabwe Publishing House. In 1988 MJ came to the United Kingdom to train as a psychiatric nurse, subsequently training as a group analyst. She worked for National Health Service (NHS) for twenty-three years as a psychiatric nurse and a group psychotherapist facilitating therapy groups and staff groups. MJ has extensive experience of working in therapeutic communities for residents with a diagnosis of Personality Disorder and of Drug and Alcohol Addiction. Currently she offers individual, couple and group psychotherapy in her private practice and also facilitates carers' groups and experiential groups for trainee counsellors.
You may also like