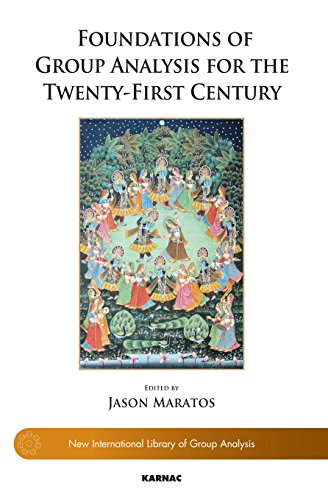 Book Details
Publisher : Routledge
Published : October 2015
Cover : Paperback
Pages : 336
Category :
Group Psychotherapy
Catalogue No : 35111
ISBN 13 : 9781782201120
ISBN 10 : 1782201122
Also by Jason Maratos
The Institute of Group Analysis (IGA) celebrates forty years from its foundation with the publication of two new volumes tracing the foundations and applications of Group Analysis. The first volume ('Foundations') aims to publicise the foundations of group analysis (with the earliest papers of Foulkes) as well as the most influential theoretical contributions by pillars of modern group analysis, such as Pines, Brown, and Hopper. The reader will be able to see the development of Group Analysis, form an opinion about the trajectory that it follows, and judge which way the tradition of openness and creative integration of diverse theoretical contributions will lead in the twenty-first century.
The second volume ('Applications') focuses on the numerous fields of work that use group analytic principles. Workers in the field of forensic psychotherapy would now consider it a great omission if they did not use some form of group analytic intervention, as would professionals dealing with those who manifest personality disorders, or those who work with different age groups, such as adolescents. Group analysis has made significant contribution to organisational work, to feminism and anti-discrimination (including anti-racism) as well as in education. The separate school of family therapy was based on group analysis, and in fact the first course of family therapy was based on group analysis and the Institute of Family Therapy was founded by (among others) the founders of IGA.
This work is meant to give easy access to the first expressions of cardinal concepts, such as the matrix, the laws of group analysis, and the notion of pseudo-problems and false dichotomies. It is hoped that it will form not only an essential source book but also will indicate the way contemporary practitioners can integrate the new developments – not included in these volumes – from spectrums as diverse as mentalisation and epigenetics.
Reviews and Endorsements
'A superb collection of group analytic papers masterfully compiled and composed of nominations by members of the Institute of Group Analysis on the occasion of its 40th anniversary, this book spans works dating back to seminal writings of Foulkes to creative extensions and elaborations of theory and clinical practice by contemporary scholars. Through its linking of group analytic theory to other conceptual frameworks, such as psychoanalytic object relations, and by its applications to settings and situations beyond the small therapy group, this work has great value for all those wishing to further their understanding of depth group psychology.'
— Les R. Greene, PhD, President of the American Group Psychotherapy Association; Clinical faculty, Yale University Department of Psychiatry; APA Division 49 Group Psychologist of the Year

'This book celebrates forty years of rich theoretical thinking and the developing practice of Group Analysis, from the early works of S. H. Foulkes through to contemporary applications which stretch beyond the clinical. The compelling papers contained in this volume will take the reader on a journey through the development of a theory that offers a unique understanding of the individual in the context of their group
and the society and world of which they form part, demonstrating a range of thinking as pertinent to the social scientist as it is to the clinician. A read as absorbing for experienced clinicians as it is for students or anyone wishing to develop an understanding of groups.'
—Marion C. Brown, Chair of the Institute of Group Analysis Board of Trustees

'This compilation of inspiring foundational contributions in Group Analysis is likely to influence our theories and styles of clinical work in the twenty-first century. Jason Maratos and his colleagues have recorded how and why the Institute of Group Analysis in London has led the development of our discipline and its profession. I strongly recommend this book to all who are interested in the clinical and social approach of Group Analysis.'
—Dr Robi Friedman, President of the (International) Group Analytic Society
About the Editor(s)
Jason Maratos is a Training Group Analyst and a Fellow of the Royal College of Psychiatrists. Dr Maratos has lectured and published internationally on subjects ranging from clinical psychiatry and self psychology to attachment theory, inter-professional consultation and research. He has served on the Editorial Board of Group Analysis for seventeen years and on the Trust Board of the IGA; after thirty years, he retired from the NHS and currently works privately as a consultant in Child and Adolescent Psychiatry as well as supervising psychiatrists and group therapists.
You may also like