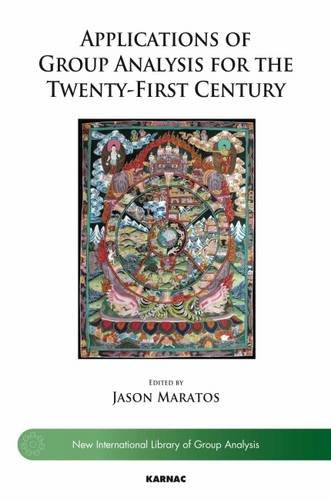 Book Details
Publisher : Routledge
Published : January 2016
Cover : Paperback
Pages : 306
Category :
Group Psychotherapy
Catalogue No : 35112
ISBN 13 : 9781782201137
ISBN 10 : 1782201130
Also by Jason Maratos
The Institute of Group Analysis (IGA) celebrates forty years from its foundation with the publication of these two volumes. The first volume aims to publicise the foundations of group analysis (with the earliest papers of Foulkes) as well as the most influential theoretical contributions by pillars of modern group analysis, such as Pines, Brown, and Hopper. The reader will be able to see the development of Group Analysis, form an opinion about the trajectory that it follows, and judge which way the tradition of openness and creative integration of diverse theoretical contributions will lead in the twenty-first century.
The second volume focuses on the numerous fields of work that use group analytic principles. Workers in the field of forensic psychotherapy would now consider a great omission if they did not use some form of group analytic intervention, as would professionals dealing with those who manifest personality disorders or different age groups, such as adolescents. Group analysis has made significant contribution to organisational work, to feminism and anti-discrimination (including anti-racism) as well as in education. A separate school of family therapy was based on group analysis. It is worth remembering that the first course of family therapy was based on group analysis and the Institute of Family Therapy was founded by (among others) the founders of IGA.
This work is meant to give easy access to the first expressions of cardinal concepts, such as the matrix, the laws of group analysis, and the notion of pseudo-problems and false dichotomies. It is hoped that it will form not only an essential source book but also will indicate the way contemporary practitioners can integrate the new developments – not included in these volumes – from as spectrum as diverse as mentalisation and epigenetics.
Reviews and Endorsements
'It is a great pleasure to read this compilation of different applications of Group Analysis. The diversity is astonishing; it covers areas as varied as forensic group psychotherapy, family therapy, attachment theory, groups with adolescents, organisational consultancy, feminism, supervision, education, combined therapies, research and addictions. The contributors are some of the most experienced and renowned group analysts, who have taken Foulkes's theories into new territories and in that way have demonstrated their applicability. I warmly recommend this book for both experienced practitioners as well as beginners of group psychotherapy, and for those who are just interested in how groups functions in different settings.'
- Gerda Winther, Former President of the International Group Analytic Society

'This book highlights the broader perspectives of theory and practice in contemporary group analysis. The chapters cover the application of group analysis in a variety of settings, among those, family therapy, hospital settings, in organisational consultancy as well as the pioneering work with offenders and victims in a forensic setting. This volume also contains papers on group analytic theory and research, as well as topics such as supervision and education. The papers are written by experienced authors and clinicians within the field. They are well written, informative and stimulating reading, and recommended for trainees as well as experienced practitioners.'
- Thor Kristian Island, MD, psychiatrist, and Group Analyst at the Institute of Group Analysis
About the Editor(s)
Jason Maratos is a Training Group Analyst and a Fellow of the Royal College of Psychiatrists. Dr Maratos has lectured and published internationally on subjects ranging from clinical psychiatry and self psychology to attachment theory, inter-professional consultation and research. He has served on the Editorial Board of Group Analysis for seventeen years and on the Trust Board of the IGA; after thirty years, he retired from the NHS and currently works privately as a consultant in Child and Adolescent Psychiatry as well as supervising psychiatrists and group therapists.
You may also like