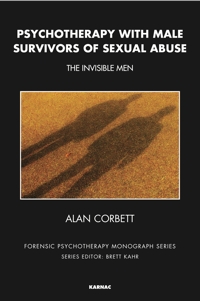 Book Details
Publisher : Routledge
Published : September 2016
Cover : Paperback
Pages : 208
Category :
Forensic
Category 2 :
Trauma and Violence
Catalogue No : 35961
ISBN 13 : 9781782201960
ISBN 10 : 1782201963
Also by Alan Corbett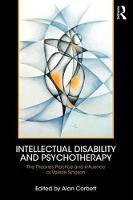 While the psychotherapeutic world has made significant strides in documenting the treatment of women victims of sexual abuse, little has been written on therapeutic responses to men. This may be understood as being partly due to the reluctance of male survivors to expose their history of abuse to clinical eyes. This may be exacerbated by a particular brand of masculine shame that causes male victims to be even more silenced than female survivors.
Based on the author's extensive clinical experience of working with children and adult victims of sexual crime, Psychotherapy with Male Survivors of Sexual Abuse looks at the long history of male sexual abuse, positioning it not simply as a new phenomenon, but one that has a long but undocumented history. Anonymised case studies provide the backdrop for in-depth explorations of various consequences of sexual abuse, including sexual addiction, profound depression, gender dysphoria, eating disorders, self harm, suicidal ideation, and dissociation. The potentially toxic impact of sexual abuse upon the partners and families of survivors is also examined, alongside the effect upon the therapist of working with the aftermath of sexual aggression. Working with men who have been abused, either in childhood or in adulthood, involves working with profound shame and secrecy, with many victims having lived their lives in a cocoon of repression and silence. This book is a huge step forward in breaking that silence.
Reviews and Endorsements
'Drawing on his extensive experience of working with male survivors of sexual violation, Alan Corbett has produced a rich and moving volume that casts light on this much-neglected area of clinical work. This book is a powerful reminder of the dangers of dividing patients into good victims and bad offenders, and forces us to recognise the powerful splitting forces that sexual abuse induces. Building on a compelling history of the abuse of boys and men through the centuries, the book locates itself firmly in the twenty-first century, casting light on the many ways in which abuse is being perpetrated through new avenues such as social media, and somatised through gender confusion, sexual compulsion, and profound depression. I recommend this book not just to clinicians working with male survivors, but to all those working with men.'
–– Estela Welldon, Founder and Honorary Elected President for Life of the International Association for Forensic Psychotherapy

'Alan Corbett has been a leading pioneer in the field of intellectual disability, psychotherapy, and abuse for the last two decades. This book is a tour de force by a fine thinker in his prime.'
–– Dr Valerie Sinason, Founder, Clinic for Dissociative Studies, President of the Institute of Psychotherapy and Disability

'The numerous contributions of Dr. Alan Corbett will be well known to anyone who has worked in the field of disability psychotherapy. Corbett's earlier work, Disabling Perversions: Forensic Psychotherapy with People with Intellectual Disabilities, has already become the standard textbook in the field of forensic disability psychotherapy. His latest achievement, on the treatment of men who have survived sexual abuse, will also occupy a long-standing place on every professional bookshelf. Corbett's highly moving account of his clinical work with this much neglected population has already achieved considerable admiration in the press, not least in the wake of the recent revelations about sexual abuse in the world of professional football. The B.B.C. radio journalist Jane Garvey interviewed Dr. Corbett on Woman's Hour, broadcast on 21st November, 2016, and I recommend that interested persons might listen to the podcast in which Corbett summarises his work with such honesty and sensitivity.'
—Brett Kahr, Senior Fellow at the Tavistock Centre for Couple Relationships, in the Tavistock Institute of Medical Psychology, London, and, Senior Clinical Research Fellow in Psychotherapy and Mental Health at the Centre for Child Mental Health
About the Author(s)
Dr Alan Corbett was Chair of the Training Committee of the Institute of Psychotherapy and Disability, and a member of the Training Committee of the Guild of Psychotherapists. He was Director of Respond, National Clinical Director of the CARI Foundation, and Clinical Director of ICAP. He was a training analyst and supervisor, a psychotherapist with the School of Life, Consultant Psychotherapist with the Clinic for Dissociative Studies, and consulted to a wide range of organisations. He also taught on a number of psychoanalytic trainings in Britain and Ireland, lectured internationally and published widely on disability, psychotherapy and trauma.
You may also like