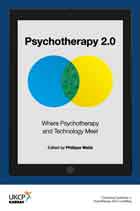 Book Details
Publisher : Routledge
Published : April 2014
Cover : Paperback
Pages : 272
Category :
Individual Psychotherapy
Catalogue No : 34505
ISBN 13 : 9781782200482
ISBN 10 : 1782200487
Also by Philippa Weitz
The digital age is both exciting and challenging for psychotherapy, opening the door to clients groups previously not able to access psychological help, whilst also providing the challenges caused by social media and internet abuse and how these impact on the consulting room.
Psychotherapy 2.0 blows open the consulting room doors and shows successful pathways for attracting new clients to gain access to psychological help, as well as demonstrating that despite initial scepticism, working online as a psychotherapist or counsellor can be as effective as 'face2face' work: the therapeutic relationship may be different but it remains the centrally important feature for successful psychotherapy. It follows therefore that all psychotherapists and counsellors need to be fully informed about the impact of the digital age on their clinical practice. Psychotherapy 2.0 covers the key issues for psychotherapists and counsellors who are, or are thinking of, working online, include thinking about psychotherapy in the digital age, the requirements to modify training both for working online and also the digital issues as they arise within the face2face consulting room.
This book is intended as a first volume in this fast changing field, with further volumes intended to concentrate on existing and emerging research, as well the diverse ways in which online work is already being developed and implemented worldwide. It is possibly the greatest moment of change for psychotherapy since Freud: there is no going back, and just as we cannot put toothpaste back in the tube, psychotherapy practice is changed for ever with the advent of the digital age.
Reviews and Endorsements
Read a review of this title in 'Contemporary Psychotherapy Volume 9 No 1 Summer 2017'
Volume One

'This book explores the implications of the digital world for talking therapies. It covers both the theoretical and the practical, from the way the internet might challenge and change current practice, to thinking about the legalities and training required to set up as an online practitioner.
The book also covers the exciting new ways in which digital technology is extending our concept of therapy to include new communities, new ways of working, and delivering support. It's written with a broad audience in mind, so whether you're just starting to learn about digital technologies, or are a fully immersed "digital native", this book will have something for you.'
— Jen Hyatt, CEO, Big White Wall Ltd

'We might expect that psychotherapists and counsellors would be naturally keen on exploring therapeutic encounters in the digital age. After all, are we not explorers, used to walking alongside our clients, intrigued by the topography, flora, and fauna of their idiosyncratic lives? And are we not those who can hear that which cannot (dare not) be spoken – and risking speaking the unspeakable? And are we not at ease with fantasy and phantasy, the reality behind the "real"? Yet the digital world has caught us out – left us behind. Topography has changed; the language is new; fantasy, phantasy, and reality are not what they were. Can it be that the therapists are the ones lost and confused?
New possibilities exist for psychotherapy and counselling to provide therapy, training, and supervision, at the unfolding edge of human consciousness. This book will stimulate many, terrify some – and open the minds of all therapists to the opportunities – and dangers – of therapy in the globalised, digitalised world. Love it or loathe it – we are all affected by it already. So let's join the dance.'
— Adrian M. Rhodes, Vice-President, European Association for Psychotherapy
About the Editor(s)
Philippa Weitz has special interests in counselling and psychotherapy online, especially in the success of the online therapeutic relationship, security, confidentiality and jurisdiction. She lectures and teaches widely around working therapeutically and safely online to both independent practitioners and organisationally. She works internationally both as an online therapist and an online supervisor. She is a qualified teacher, trainer and psychological counsellor with more than 25 years in the mental health sector. Pip is currently Training Director for the Academy for Online Counselling & Psychotherapy, Director of UK Counselling Online, and Director of Psychotherapy Services for Dr Julian. She is one of the professionals advising the Private Practice Hub's Online Therapy section. She is author/editor of Psychotherapy 2.0: Where Psychotherapy and Technology Meet as well as series editor for the Routledge Psychotherapy 2.0 series. She was Commissioning Editor for the UKCP Book Series from 2005-2016. Pip is also Vice Chair and Research & Development Director for ACTO, the Association for Counselling and Therapy Online.
You may also like