Psychoanalytic Reflections on Writing, Cinema and the Arts: Facing Beauty and Loss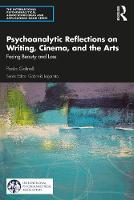 Book Details
Publisher : Routledge
Published : December 2020
Cover : Paperback
Pages : 112
Category :
Psychoanalysis
Catalogue No : 95439
ISBN 13 : 9780367482503
ISBN 10 : 9780367482
Also by Paola Golinelli
"Why are we so fascinated by beauty?" is a question many of us have asked ourselves, as have many who came before us. This book investigates the moment of ecstatic solitude in which everyone can experience emotions through films, works of art or natural phenomenon, when, even if for a "magic" instant, we feel "alive" and masters of our own Self.
Expanding from the author's personal experience, this book is a series of applied psychoanalytic essays on film, literature, and aesthetic pleasure. It explores the complexity of loss and mourning, destructivity, perversion, and revenge, as well as an exploration of what can facilitate transformation and how to lead a blocked healing process back to motion.
This fascinating and insightful book will be of interest to psychoanalysts, psychologists, teachers and students, and all those with an interest in psychoanalysis and the arts.
Reviews and Endorsements
"If you love language this is the book for you. Paola Golinelli is a beautiful writer, creating understanding through writing that is more like an impressionistic painting than a scientific tract, but with the insights and psychoanalytic heft that will satisfy anyone looking for greater understanding of our complex, always expanding profession. Her voice is lyrical and gentle, inviting the reader to join her rather than argue one into submission." - Fred Busch, Ph.D., author of Creating a Psychoanalytic Mind.

"With this remarkable collection of essays Paola Golinelli has given us an invaluable gift. With insight, sensitivity and extensive knowledge of her subject matter, she has effectively employed an analytic lens to illuminate the artistic experience in its many forms and dimensions. The heart of Golinelli's book is her analytic discussion of a number of memorable films, a discussion that both enhances our understanding and deepens our appreciation of these woks of cinematic art. The same can be said of her essay on writing and of her original observations on the experience of viewing a great painting. This is a book to read, reread, and to treasure." - Ted Jacobs,, Training and Supervising Analyst of the ApsaA.

"This book written by Paola Golinelli is the brilliant work of an analyst who brings psychoanalytic exploration in the vast field of culture. It is a sensitive study of human emotions when confronted with a work of art, painting, statue, or cinematographic image. "Facing Beauty and Loss" deals with the human experience of integrating the object, while incorporating in this experience the object's absence. With sensibility and insight Golinelli describes situations in which encounter with the beauty of an object and loss of the object alternate and co-exist in subjective experience. The author uses psychoanalytic tools to interpret the internal as well as the external world. It is applied psychoanalysis at its best." - Ilany Kogan, Training and Supervising Analyst, Israel Psychoanalytic Society.
About the Author(s)
Paola Golinelli is a Training and Supervising Analyst of the SPI (International Psychoanalytic Society) and works in private practice in Bologna. She is a member of the IPA in Culture Committee.


You may also like