Book Details
Publisher : Routledge
Published : May 2022
Cover : Paperback
Pages : 200
Category :
Psychoanalysis
Catalogue No : 96543
ISBN 13 : 9781032017815
ISBN 10 : 9781032017
Also by Nancy R. Goodman
Also by Margarita Cereijido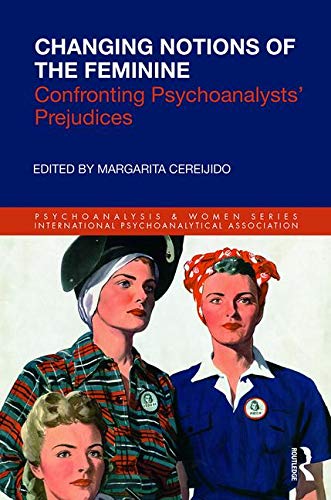 In this book, international psychoanalytic writers address the question 'What do Women Want Today?' from a variety of lenses, bringing into focus the creative, resilient forces shown by women in their multiple social and psychological tasks.
The book reviews classic psychoanalytic theories about the feminine within a new cultural context. It challenges hegemonic gender prejudices and discusses new conceptions that do not pathologize 'different' lifestyles and family configurations. With chapters by leading, international thinkers in the field, this book explores how to think about new feminine scenarios, gender identities, gender dynamics, motherhood, and desire, in light of modern psychoanalytic theories. In presenting how these changing contemporary notions of the feminine challenge classic psychoanalytic theory and practice, this book will compel both training and experienced analysts to think about new psychoanalytic theories and engage with their own prejudices regarding changing notions of the feminine.
Offering ideas relevant to psychoanalysis, sociology, gender studies, psychology, and activism, this book will be of great interest to professionals, teachers and students in addition to any with an interest in psychoanalytic theory and women's studies.
About the Editor(s)
Nancy R. Goodman, PhD, is a training and supervising analyst with the Contemporary Freudian Society, Washington DC Program and the IPA. She is interested in unconscious fantasy, witnessing of individual and mass trauma, enactments, and psychoanalysis and film. She is the leader of a CIPS study group on enactments. Her most recent publications include: The Power of Witnessing: Reflections, Reverberations, and Traces of the Holocaust—Trauma Psychoanalysis, and the Living Mind (co-editor/writer with Marilyn B. Meyers), 'Enactment: Opportunity for Symbolising Trauma' (Ellman & Goodman) in Absolute Truth and Unbearable Psychic Pain: Psychoanalytic Perspectives on Concrete Experience (ed. A. Frosch), as well as being editor of Psychoanalysis: Listening to Understand--Collected Papers of Arlene Kramer Richards. She maintains a psychoanalytic practice in Bethesda, MD.
You may also like