Psychoanalysis, Clinic and Context: Subjectivity, History and Autobiography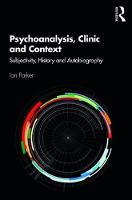 Book Details
Publisher : Routledge
Published : April 2019
Cover : Paperback
Pages : 208
Category :
Psychoanalysis
Catalogue No : 94344
ISBN 13 : 9780367144333
ISBN 10 : 0367144336
Also by Ian Parker


Psychoanalysis is a strange and mysterious practice. In his new book, Ian Parker offers insights into his own experiences, first as trainee then as analyst, the common assumptions about psychoanalysis which can be so misleading, as well as a map of the key debates in the field today.
Beginning with his own history, at first avoiding psychoanalysis before training as a Lacanian, Parker moves on to explore the wider historical development of clinical practice, making an argument for the importance of language, culture and history in this process. The book offers commentary on the key schools of thought, and how they manifest in the practice of psychoanalysis in different regions around the world.
Psychoanalysis, Clinic and Context will be of great value to practitioners and social theorists who want to know how psychoanalytic ideas play out in training and the clinic, for trainees and students of psychoanalysis or psychoanalytic psychotherapy, and for the general reader who wants to know what psychoanalysis is and how it works.
About the Author(s)
Ian Parker is Professor of Psychology in the Discourse Unit at Manchester Metropolitan University, UK. He is widely published, and his books include The Crisis in Modern Social Psychology (1989), Psychoanalytic Culture: Psychoanalytic Discourse in Western Society (1997), Critical Discursive Psychology (2002), Slavoj Zizek: A Critical Introduction (2004) and Psychoanalytic Practice and State Regulation (2008).
You may also like