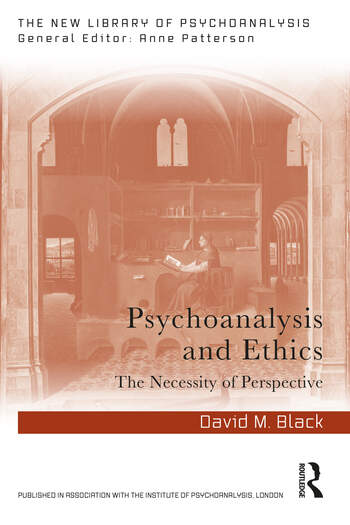 Book Details
Publisher : Routledge
Published : November 2023
Cover : Paperback
Pages : 200
Category :
Psychoanalysis
Catalogue No : 97352
ISBN 13 : 9781032588353
ISBN 10 : 1032588357
Also by David M. Black

Psychoanalysis and Ethics: The Necessity of Perspective is an attempt to look deeply into the relationship between psychoanalysis and ethics, and in particular into the failure of traditional psychoanalytic thinking to recognise the foundational character of ethical values.
In recent years, partly because of the climate crisis, the need for an "ethical turn" in our thinking has been recognised with increasing urgency. Using different historical lenses, and with special reference to the thought of the philosopher Emmanuel Levinas and pioneering American psychoanalysts such as Hans Loewald and Stephen Mitchell, the author discusses the perspectives needed in addition to those of science if the facts of "psychic reality" are to be more adequately recognised. In particular, this book emphasises the importance of a coherent account of the role of ethics in shaping the development both of the individual and of society.
Psychoanalysis and Ethics is essential reading for those concerned for the importance of ethics in psychoanalytic practice and theory, and more widely for those seeking to understand the place of ethics and religion in psychological development.
Reviews and Endorsements
Psychoanalysis and Ethics aims to overcome a split in psychoanalytic thinking and training that arose, as David M. Black puts it, from the contingent fact that Freud lacked a philosophical base on which to consider the hugely important questions of ethics. In fact, human life is ethical life, and it essentially includes the struggles, frustrations, furies and tremendous joys of putting ethical life into words. Through subtle readings of Dante, as well as Melanie Klein, Hans Loewald, Donald Winnicott and many others, Psychoanalysis and Ethics revives our understanding of allegorical thinking and its power. This book is passionate and throught-provoking, rigorous and imaginative.
Jonathan Lear, Committee on Social Thought, the University of Chicago

Few books so generously provide a rich and nuanced conceptual scaffolding to help us to push open new doors in our thinking. This is one of those rare books. Masterful in his integration of philosophy, theology, psychoanalysis and literature, David M. Black has instantiated the "necessity of perspective" through his interdisciplinary approach to ethics. In the morally challenging times we live in, this book is essential and rewarding reading, not only for psychoanalytic clinicians and academics, but also for anyone interested in ethics - it is a book that I am sure I will return to many times.
Alessandra Lemma, fellow, British Psychoanalytic Society and visiting professor, Psychoanalysis Unit, University College London; author of First Principles: Applied Ethics for Psychoanalytic Practice

David M. Black has made an extraordinary individual contribution to psychoanalytic writing over many years. He approaches psychoanalysis from a unique combination of experiences and trainings in which he has been depply immersed: religion, philosophy, ethics, psychoanalysis, literature - most recently the mammoth project of translating and writing commentaries on Dante. His voice is very much his own, and he approaches any subject with this very broad set of references, which infuses his writing with a particular quality of contemplation and vitality. I always look forward hungrily to receiving his latest psychoanalytic contribution.
Francis Grier, editor-in-chief, International Journal of Psychoanalysis; training analyst and supervisor of the British Society of Psychoanalysis
Table of Contents

1. Introduction
2. The Working of Values in Ethics and Religion
3. Jonathan Lear: Heir to a Different Legacy
4. Who Founded Buddhism? Notes on the Psychological Action of Religious Objects
5. Dante's Two Suns: the Psychological Sources of the Divine Comedy
6. Dante, Duality and the Function of Allegory
7. Freud and Idealization
8. The Transcendent in Everyday Life
9. Religion as the Affirmation of Values
10. Levinas's Re-Basing of Religion
About the Author(s)
David M. Black is a Fellow of the Institute of Psychoanalysis, London, and works as a psychoanalyst in private practice and teaches on a number of professional trainings. He has published widely on psychoanalysis in relation to religion, consciousness and values.
You may also like