Psychiatry, Politics and PTSD: Breaking Down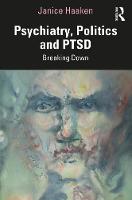 Book Details
Publisher : Routledge
Published : July 2020
Cover : Paperback
Pages : 186
Category :
Individual Psychotherapy
Catalogue No : 95188
ISBN 13 : 9780367819378
ISBN 10 : 9780367819
Also by Janice Haaken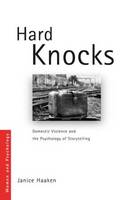 Integrating critical and feminist psychology, psychiatry, and psychoanalysis, this text offers a distinct perspective of posttraumatic stress disorder (PTSD) as a clinical and social phenomenon.
The book draws upon interviews carried out in field settings to examine the true individual and social costs of being diagnosed with PTSD. The author examines how social contexts and social movements shape diagnostic thinking about mental trauma and how the PTSD diagnosis emerged as a symptom of a crisis in psychiatry over demands to recognize the social and political origins of mental suffering. Chapters explore case examples from a range of settings, such as military and veterans' affairs clinics, war zones and refugee camps, psychosomatic medicine, the criminal justice system, and more.
Providing a new way of thinking about PTSD and an alternative to both critics and defenders of the diagnosis, this text will be useful for scholars and practitioners in psychiatry, psychology, psychoanalysis, public health policy as well as, sociology, social work, gender studies, and the law
Reviews and Endorsements
"Jan Haaken is one of feminist critical psychology's most powerful voices. Here again, as in all her books and films, we discover that Haaken, a consummate storyteller, is also a consummate listener. The stories she tells here, drawn from her documentary film work and her clinical experience, reveal over and over the complexities of what it means to suffer and what it means to be human - complexities that defy any simple diagnosis. Haaken's capacity to hear in these stories what has too often been unheard illuminates for clinicians, activists, and social theorists alike the regressive and progressive socio-political uses - over its long history - of the PTSD diagnosis." - Lynne Layton, PhD, assistant professor of psychology, Department of Psychiatry, Harvard Medical School.

"While not forgetting the suffering of real people, Haaken focuses on the way in which PTSD serves as a defense for those in the helping and healing professions. PTSD becomes a shape-shifting diagnosis, serving more to satisfy the needs of practitioners than the suffering of human beings. At the same time, the suffering designated by the diagnosis of PTSD is real and important. Haaken's ability to see PTSD both as an expression of the culture of the mental health profession, as well as an expression of deep human suffering, is unparalleled. This is a remarkable book by a remarkable author: psychoanalytic therapist, professor, scholar, and documentary filmmaker embedded in a Combat Stress Control unit in Afghanistan. No other book brings this wide-ranging and up-close access to the politics and experience of PTSD. No other book combines scholarship with experience in this way. A remarkable achievement." - Fred Alford, PhD, professor emeritus, University of Maryland, College Park.

"In her new book, Jan Haaken once again comes to our aid by examining and critically interpreting another of psychology's sacred cows. This time she studies the psychiatric diagnosis PTSD, a remarkably popular concept in pop culture and everyday language as well as professional therapeutic circles. But what are its political functions and moral meanings? With her characteristically lucid prose and critical intellectual gifts, Janice Haaken interprets PTSD through the lenses of politics, history, and feminist psychoanalysis. She sheds light on how PTSD has emerged and grown powerful as a diagnosis and how it serves not only to help patients but also to protect clinicians and limit their understandings of how and why patients suffer. Importantly, she accomplishes this with compassion, fairness, and clinical acumen; she sees many sides of the same problem and never loses sight of the people who suffer and those who are tasked with attenuating that suffering. Above all, she demonstrates how the psy disciplines could be a force for good by drawing on critical traditions and contributing to forms of resistance against the status quo. Psychiatry, Politics and PTSD is a book to be savored both by psy practitioners and general intellectual audiences throughout the world." - Philip Cushman, PhD, retired core faculty, Antioch University Seattle.
About the Author(s)
Janice Haaken, PhD, is Professor Emeritus of Psychology at Portland State University, a Clinical Psychologist, and an award-winning documentary filmmaker.
You may also like