Process-Focused Therapy: A Guide for Creating Effective Clinical Outcomes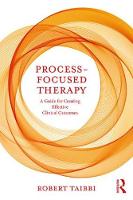 Book Details
Publisher : Routledge
Published : October 2018
Cover : Paperback
Pages : 176
Category :
Individual Psychotherapy
Catalogue No : 93878
ISBN 13 : 9780815347989
ISBN 10 : 9780815347
Also by Robert Taibbi
Process-Focused Therapy weaves together three key perspectives to help clinicians create a more effective therapeutic session: client problems as faulty process, the goal of therapy as changing such faulty process within the session and the art of shaping the session process for each client. Each practical chapter enables professionals to focus on bridging the gap between the client's language (content) and the clinician's language (process) and on the need to assess and shift this focus quickly within each session to create a new and productive therapeutic experience.
The book starts with the concept of "how you do anything is how you do everything" and details tools that clinicians can use to identify a client's "stuckpoints," (i.e. the faulty process that keeps clients from effectively solving their life problems). The reader is then provided with treatment maps for each of the most commonly presented stuckpoints, and guidance on how to present clients with a preliminary treatment plan.
Next, the author explains techniques for building rapport, changing the emotional climate, staying in lockstep, and repairing breaks in the process and shows, through transcribed sessions, how to craft sessions to maximize their emotional and therapeutic impact.
Finally, clinicians will learn how to apply these concepts and techniques to their established clinical model. With rich vignettes included throughout and end-of-chapter questions to invite the reader to reflect on their own practice and consolidate their knowledge of therapeutic processes, Process-Focused Therapy will be a valuable guide for both beginning and experienced therapists.
About the Author(s)
Robert Taibbi, LCSW, is an experienced clinician, supervisor, and clinical director who has been practicing since the 1970s. He is the author of numerous books, including Doing Family Therapy: Fourth Edition, and Doing Couple Therapy: Second Edition, as well as over 300 magazine and journal articles, and writes a column entitled "Fixing Families" for Psychology Today online. Mr. Taibbi provides training both nationally and internationally in couple therapy, family therapy, brief therapy, and clinical supervision. He has a private practice in Charlottesville, Virginia.
You may also like